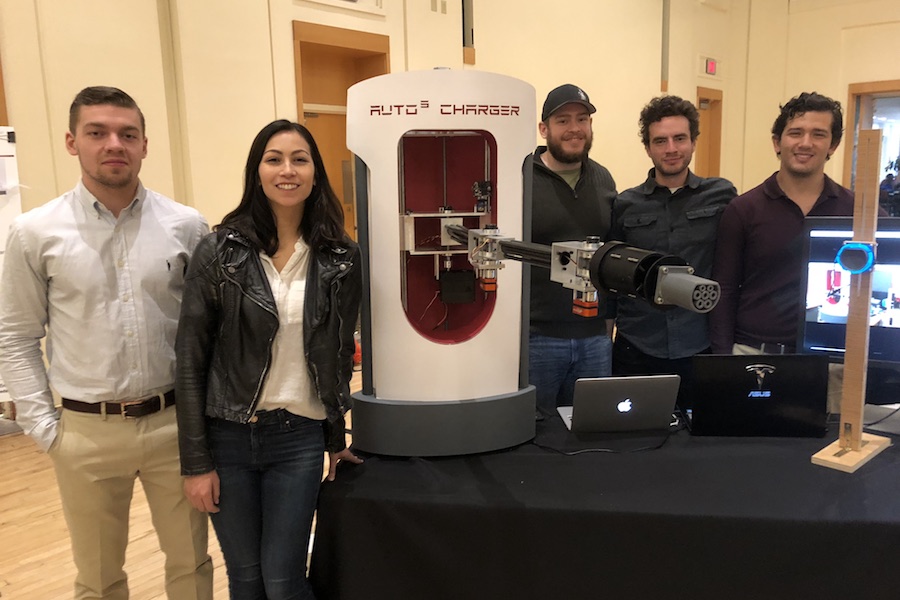 December 14, 2017
Energy Education Makes an Impact
By Abigail Salmon asalmon(through)andrew.cmu.edu
Media Inquiries
At Carnegie Mellon University, students don't wait until they graduate to change the world. Carnegie Mellon offers a number of interdisciplinary, project-based courses that examine energy-related issues and produce impactful research and products. Throughout the year, students in these courses apply their problem-solving skills and technical knowledge from various disciplines to solve real-world problems. As the Fall 2017 semester drew to a close, the students showcased the research and designs they produced. 
Pittsburgh to Paris: Reducing the Carbon Footprint of Carnegie Mellon University
19-452: Engineering and Public Policy Projects, Section B
Instructors: Edward Rubin, Alumni Chair Professor of Environmental Engineering and Science, Engineering and Public Policy; John Miller, Professor of Social and Decision Sciences 
Project Manager: Kenneth Sears
This project focuses on CMU's potential for reducing greenhouse gas (GHG) emissions in coming years. On Dec. 5, students in this course presented policy recommendations to the university administration on how the university can lower GHG emissions, advancing the goals of the Paris climate agreement. Analyzing CMU as a nation state, students explored the full costs and benefits of the emission reduction policies needed to achieve the 26-28% emission reduction promised by the Obama administration. Their research was informed by historical CMU emission trends, as well as future plans for campus growth.
Electrifying the Future: Challenges and Opportunities
24-643: Special Topics: Electrochemical Energy Storage Systems
Instructor: Venkat Viswanathan, Assistant Professor of Mechanical Engineering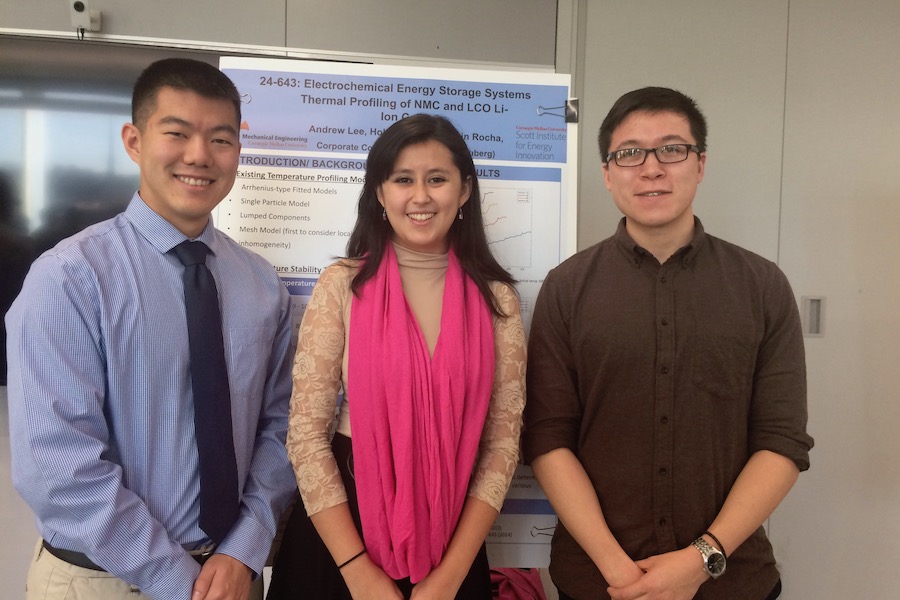 On Dec. 1, students in this course presented their work on Li-ion battery systems. While the use of these batteries is widespread, there's still room for improvement. Students found scientific and engineering solutions for Li-ion battery problems in a number of industries, including aviation and electric vehicles. Guests and judges prominent in their fields attended the student's research poster presentation, giving students a chance to display their findings to the movers and shakers of energy innovation in the region.
The Wilton E. Scott Institute for Energy Innovation sponsored the presentation, along with the Department of Mechanical Engineering, the Energy Science, Technology and Policy Program and EC Power.
Guests and Judges
Grant Ervin, chief resilience officer, City of Pittsburgh
Justin Miller, principal transportation planner, City of Pittsburgh
Thomas J. Tarka, P.E., senior engineer, National Energy Technology Laboratory, U.S. Department of Energy
Nathaniel Doyno, director, Strategy & Partnerships, Voltaiq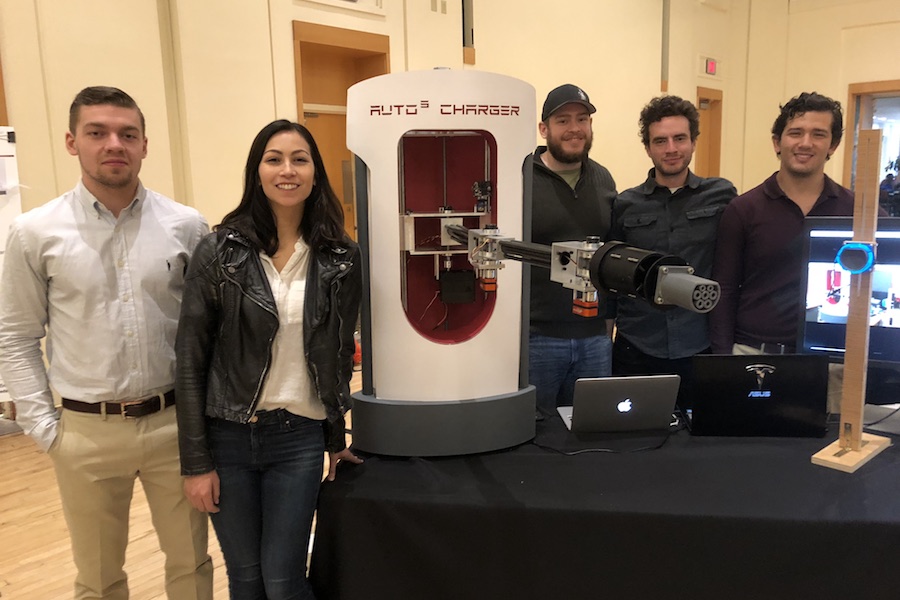 In the course, 'Engineering Design II,' seniors in the Mechanical Engineering Department display the knowledge and skill sets they've developed by applying them to real-world problems through a well-designed mechanical system. 
In 'Electromechanical Systems Design,' Professor Bedillion guides students through the design process as applied to mechatronic systems that feature electical, mechanical and computational components.
In both courses, students learned first-hand about the ethical responsibilities of design, and also the regulatory aspects of engineering as teams went through the design process from start to finish. Many of the student teams focused their problem-solving skills on energy-related projects, such as an autonomous charger for electric vehicles (above) and the Portable Hydroelectric Generator.
Additional Fall 2017 Energy Project Courses
19-452: Engineering and Public Policy Projects
Instructors: Baruch Fischhoff, Howard Heinz University Professor, Department of Engineering and Public Policy, Institute for Politics and Strategy; Mitchell Small, H. John Heinz Professor of Civil and Environmental Engineering and Engineering & Public Policy
Project: "Pipeline Safety: Risk Analysis and Communication"
Project Manager: Logan Warberg