Fume Hood and Exhaust Ventilation Testing
Chemical fume hoods are intended to remove vapors, gases and dusts of toxic, flammable, corrosive or otherwise dangerous materials. They are one of the most important engineering controls in a lab. Your laboratories chemical fume hood should be certified on an annual basis by EH&S.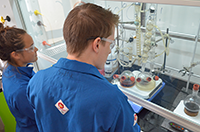 If you have reason to believe that a fume hood in your lab has not been certified or is not functioning properly, please contact EH&S using the link above.