Shipping or Receiving Dangerous Goods
Current Federal Law requires all persons who ship (this includes the actual packing of the material and filling out of assorted forms) Dangerous Goods (certain chemicals, biological and radiological materials) to be trained and certified prior to shipping whether sending via ground or air, national or international.  The Department of Transportation (DOT) currently mandates that shippers retain a copy of each Dangerous material shipping paper, or an electronic image, of the shipping order, bill of lading, manifest or other documents for a period of 2 years after the date of shipping.
EHS staff will help you ship materials safely and in accordance to the rules and regulations set forth by the Department of Transportation (DOT), the Federal Aviation Administration (FAA), the International Civil Aviation Organization (ICAO) and the International Air Transport Association (IATA). 
Given the resources required to ship dangerous goods, please place your shipment review request at least one week in advance of the needed shipment.
Useful Shipping Information
Classification of Dangerous Goods
UN numbers or UN IDs are four-digit numbers that identify dangerous goods, hazardous substances and articles (such as explosives, flammable liquids, toxic substances, etc.) Dangerous Goods are defined as those goods which meet the criteria of one or more of nine UN hazard classes.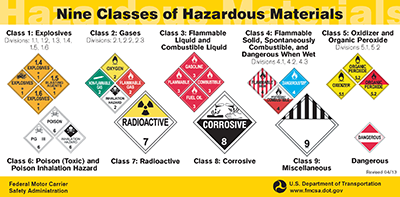 UN Hazard Classes
Class 1
Explosives
Class 2
Compressed Gases
Class 3
Flammable Liquids
Class 4
Flammable Solids; Substances Liable to Spontaneous Combustion; Substances Which, in Contact with
Water, Emit Flammable Gases
Class 5
Oxidizing Substances and Organic Peroxides
| | |
| --- | --- |
| Class 6 | Toxic and Infectious Substances |
| Class 7 | Radioactive Material |
| Class 8 | Corrosives |
| Class 9 | Miscellaneous Dangerous Goods (genetically modified organisms, polymeric beads, cryogenic liquids, dry ice, non-hazardous material sensitive to light or heat, magnetized material, batteries and items containing batteries, etc.) |
International Shipping of Non-Dangerous Goods
Many countries have special requirements from their customs department when shipping of any chemical or biological material, it is important for you understand there may be specific requirements, which differ by country, and additional documentation may be required. Additional documents which may be needed include Commercial Invoice, Certificate of Origin and Shipper's Export Declaration. For more complete information on international shipping, visit the vendor website and sign up for a free account (user identification).
Required Training BEFORE Shipping or Receiving
Training of the persons involved in the shipping, receiving and transport of hazardous materials is a key element of the Department of Transportation (DOT) regulations. EH&S has training modules available here for certain limited tasks in this process.
How do I Ship?
Complete the normal shipping papers (FedEx, UPS, DHL, or any other shipper's waybill.)
Complete a Request for Shipment Review a minimum of 1 week in advance.
If deemed a Dangerous Good, you will need to purchase an appropriate shipping package (available through Mellon Stores).
An EH&S representative will contact you regarding the final shipment.