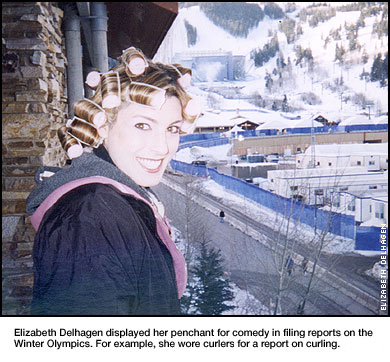 Sophomore Files Web Reports from Winter Olympics as AT&T "Xtreme VJ"
Carnegie Mellon sophomore Elizabeth Delhagen, 19, has been bubbling with excitement since returning from Salt Lake City, Utah, after six days of reporting on the "wild side" of the 2002 Winter Olympics.
"I never expected in a million years to go to the Olympics, much less report on it," she said.
A Presidential Scholar, Delhagen is majoring in biology and psychology with minors in business and drama. She was selected to be an "Xtreme VJ" after receiving the lions share of online votes in the "XPlore The Games AT&T Olympic VJ" contest.
Delhagen, who humbly insists she "must have been lucky," was selected to give daily Web reports on AT&T's promotional Web site for the Winter Olympics (www.xplorethegames.com). During the first three days, she filed reports from the Opening Ceremonies, the lively streets of Salt Lake and from many of the events. If the action was there, so was Delhagen.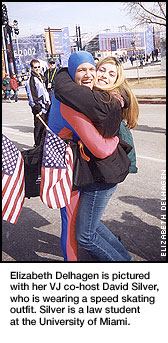 The busy student who makes time in her academic career to pursue a passion for acting in the School of Drama was often encouraged to play out "skits" during her reports. She displayed her true penchant for comedy when she donned pink foam curlers in her hair during a report on the Olympic sport of curling.
"We're just trying to have fun," she said in an interview with a Pittsburgh Tribune-Review reporter in Salt Lake. The roving reporter had noticed her antics and made the budding star reporter into a story of her own.
While reporting on the events, Delhagen was most impressed with the Americans' open patriotism and indiscriminate support of athletes from all countries.
"During an ice skating event, a pair from China had a phenomenal performance and received a standing ovation from the whole crowd. A second standing ovation came after a pair from the U.S. skated. The fact that there was the same response for both showed that the audience had put aside allegiances to their own country's team and just appreciated the sport," she said.
Delhagen's professors were amiable about rearranging due-dates for assignments and exams so she could attend the Olympics.
"They supported me and believed that this was a once-in-a-lifetime experience I shouldn't pass up," she said.
She also expressed gratitude to the student body and faculty at Carnegie Mellon for their online votes because she feels it was the university's support that enabled her to enjoy this unique experience.

Another Olympic Connection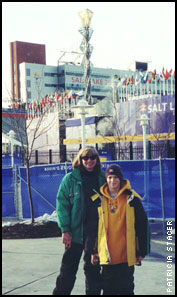 Elizabeth Delhagen wasn't the only one from Carnegie Mellon who attended the XIX Winter Olympics in Salt Lake City. Patricia Stacer, director of Retail Services, took her nephew, Danny Sotak, to the games. During seven days there, they attended women's ice hockey, downhill skiing, snowboarding and pairs figure skating events. At left, they are pictured in front of Rice Eccles Olympic Stadium.

Joelle Park
(03/08/02)