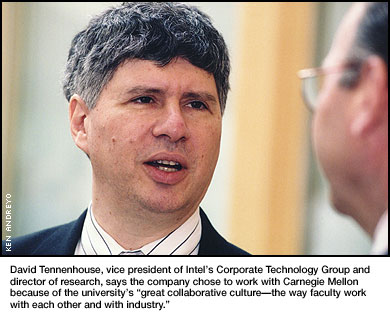 Intel Opens Software Development Lab Near Carnegie Mellon Campus
Professor Mahadev Satyanarayanan Leads Efforts in Creating Proactive Computing Environments


Intel Corp. (www.intel.com), the world's largest producer of computer chips and a leading manufacturer of computer, network and communication products, has officially opened Intel Research Pittsburgh, a new laboratory focusing on software development for data storage.

The lab, at 417 S. Craig Street near the corner of Craig and Forbes Avenue, is close to the Carnegie Mellon campus and is headed by Mahadev Satyanarayanan, the university's Carnegie Group Professor of Computer Science.

Satyanarayanan, a pioneer in the field of distributed file systems and mobile computing, is taking a partial sabbatical for two years to get the facility up and running. Ultimately, the lab will employ 20 - 25 Intel employees and an equal number of university scientists, graduate students, interns and visiting researchers.

Intel Research Pittsburgh is one of three labs the company has founded in close proximity to major universities in order to pursue "proactive computing environments of the future," said David Tennenhouse, vice president of Intel's Corporate Technology Group and director of research. The others are located at the University of Washington in Seattle and the University of California at Berkeley.

Tennenhouse was a featured speaker at the Feb. 20 opening event on campus, along with Carnegie Mellon President Jared Cohon, School of Computer Science Dean Jim Morris and Satyanarayanan, who described the nascent research projects under way in the lab. Their talks were followed by an afternoon open house at Intel Research Pittsburgh for the university community.

Cohon noted that over the past seven years, Intel has given the university $11.5 million in equipment and gifts, making it the institution's largest corporate sponsor. The gifts have been spread across the entire university.

"Intel has influenced virtually every college and school at Carnegie Mellon, from the cognitive sciences in H&SS (College of Humanities and Social Sciences) to computational finance in GSIA (Graduate School of Industrial Administration), to say nothing of the interactions in CIT (Carnegie Institute of Technology) and SCS (School of Computer Science)," Cohon said. "One hundred fifty Carnegie Mellon graduates currently work at Intel, which is a large number for a small university."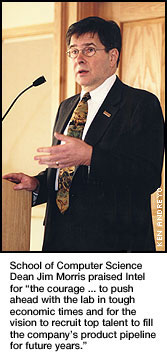 "Intel Research Pittsburgh is one of a small network of labs we're setting up," Tennenhouse explained. "Carnegie Mellon was one of the first three universities with which we chose to work, not just because of great research, students and faculty, but also because of the great collaborative culture here—the way faculty work with each other and with industry."
Tennenhouse envisions that the university-related labs will "lower the walls" between the corporate and academic institutions, and that the unique environment can have unexpected effects. He says he already sees the researchers at Berkeley, Washington and Carnegie Mellon forming new alliances that will not only benefit Intel, but enhance national skills as well.
"Our goal is not to pull talent out of the university, but to amplify it," he said. He urged all departments of the university to participate as fully as possible.
Morris praised Intel for "the courage and cash flow to push ahead with the lab in tough economic times and for the vision to recruit top talent to fill the company's product pipeline for future years.
"Pittsburgh is becoming the storage systems capital of the world," said Morris, who noted the university's history in data storage goes back to the development of the Andrew network in the mid-1980s, when Satyanarayanan and his colleagues designed the Andrew File System.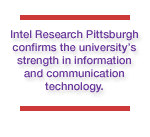 He pointed out other milestones in data storage, including the formation of the Magnetics Technology Center, which later became the Data Storage Systems Center, which attracted Seagate Technologies to establish a research center in Pittsburgh. The contributions of SCS' Parallel Data Systems Lab and its founder Garth Gibson, who went on to found Panasas Systems, were also acknowledged.
Satyanarayanan described the exciting new technology under development at the laboratory, focusing on three incipient projects. The first, Internet Suspend/Resume, is a project that will allow a person working on a laptop in any location to close the lid, leave, pick up another computer miles away and be able to resume his/her work in exactly the place where he or she left off. He said that by combining distributed file systems technology and virtual machines, researchers at the lab have already developed a proof-of-concept for this technique.
Another project called Proactive Data Staging involves a computer system that could anticipate your need for information and deliver it at low network latency, thus ensuring good interactive response.
Satyanarayanan also described a Dynamic Sensing Agent Network composed of tiny computers equipped with intelligent sensors that can run very sophisticated programs like face recognition.
While Intel officials were celebrating the opening of the new lab, they also dedicated the Internet Exchange Architecture (IXA) Laboratory in Hamerschlag Hall, which features network architecture equipment donated by Intel. The lab is heavily used by students for honors projects.
A ribbon-cutting ceremony for the IXA Lab was followed with a lecture by Raj Yavatktar, chief software architect, Internet Exchange Architecture, Intel Communications Group, who discussed Building Blocks for a programmable Internet.
Anne Watzman
(03/08/02)