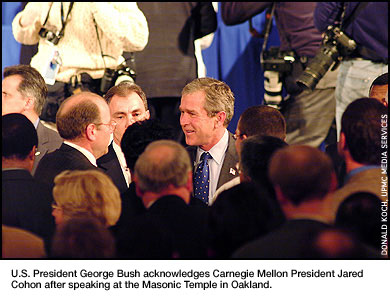 President Bush Praises Carnegie Mellon, Pitt Collaboration to Fight Bioterrorism
Surveillance System Was Used at Winter Olympics


President George Bush visited Pittsburgh last month for a briefing on the work of the Biomedical Security Institute (BMSI) http://biomedsecurity.org/, a collaboration between Carnegie Mellon and the University of Pittsburgh, and to speak in support of his plan to increase national spending for homeland security efforts.

The BMSI, established in 2000, conducts research into the prevention of, preparation for and response to bioterrorism. The institute's mission is to detect, analyze, prevent and respond to acts of terrorism and natural events involving biological agents.

Carnegie Mellon President Jared Cohon, Pitt Chancellor Mark Nordenberg and UPMC Health System President Jeffrey Romoff were part of a group that informed Bush about BMSI's Real-time Outbreak and Disease Surveillance System (RODS), a computer-based program that monitors about 1,200 patient visits per day in 17 western Pennsylvania hospitals.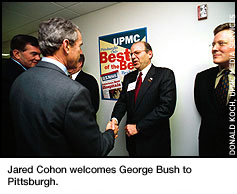 The computer program, demonstrated to Bush by co-creators Andrew Moore, the A. Nico Habermann Associate Professor of Robotics and Computer Science, and University of Pittsburgh Professor Michael Wagner, recognizes patterns of infectious disease and looks for sudden and frequent outbreaks of cases involving flu-like symptoms, respiratory illnesses, diarrhea and paralysis. A sudden peak in a certain type of symptom may be the result of a biological agent. Public health doctors are automatically notified if a pattern develops and they in turn notify the proper authorities.
"I want to thank both Chancellor Mark Nordenberg of the University of Pittsburgh and Jerry Cohon of Carnegie Mellon for my informative briefings today," Bush said.
"To me, it was fascinating, and I appreciate the people who have worked so hard to come up with a critically useful tool for America. You know, I've come to realize having spent some time in Pittsburgh—particularly after hearing the briefings today—that while Pittsburgh used to be called 'Steel Town,' they need to call it 'Knowledge Town.'"
RODS was used at the Winter Olympics in Salt Lake City, Utah. The computer program in Pittsburgh received data from nearly 40 emergency rooms and clinics in Utah, and kept track of how many patients reported respiratory, gastrointestinal and/or neurological health problems. The computer system showed geographically how many and what type of problems were being reported in each zip code.
Moore said since the system has been established it has alerted public officials about several outbreaks, but they have been "natural, safe outbreaks."
"We haven't noticed anything dangerous yet. There was a fairly conventional diarrhea outbreak several weeks ago."
Moore said his meeting with President Bush, who was accompanied on the trip to Pittsburgh by Director of Homeland Security Tom Ridge and Tommy Thompson, secretary of the Department of Health and Human Services, was "the chance of a lifetime."
"We briefed them on the RODS system and some of the underlying statistics and computer technology. It was certainly a very exciting day," Moore said.
Moore said the briefing felt like a typical meeting with senior executives. "They asked sensible questions as would be the case in a high-level meeting," he said.
Researchers are in the process of installing more advanced systems to the computer program that would recognize a sudden spike of diseases in people from a particular workplace or demographic.
The BMSI recently received a $755,563 grant from the Centers of Disease Control and Prevention for its work.
The BMSI was established with grants from the Centers for Disease Control and Prevention and the Agency for Healthcare Research and Quality, part of the Department of Health and Human Services.
Bruce Gerson
(03/08/02)