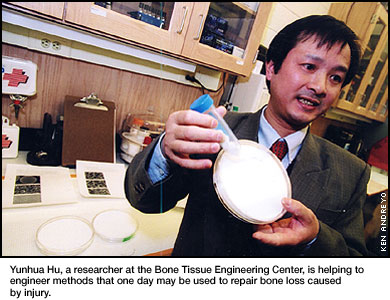 Multidisciplinary Bone Tissue Engineering Center Aims to Advance Regenerative Medicine
Carnegie Mellon researchers are engineering bone constructs in labs that one day may be used to repair bone loss caused by a gunshot wound or car accident, or to repair the common wear and tear caused by old age.
Under the direction of Jeffrey Hollinger, a team of local and global engineers, biologists, computer scientists and physicians at the Bone Tissue Engineering Center (BTEC) are finding ways to tap into the self-renewing strength of bone tissue. The center's mission is to advance research and education in regenerative medicine that will enable diseased or injured tissues to be replaced with tissue constructs that attach and grow onto existing cells.
Established in July 2000, the BTEC, which includes researchers from the Carnegie Institute of Technology (CIT), the School of Computer Science and the Mellon College of Science (MCS), has already received $7.9 million in grants from the National Institutes of Health, the National Institute of Standards and Technology, corporations and foundations. The center has six patents pending.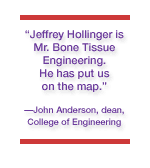 Hollinger, professor of biomedical and health engineering in CIT and professor of biological sciences in MCS, has a doctor's degree in physiology and is a doctor of dental surgery. Lured to Carnegie Mellon from the University of Oregon, Hollinger is regarded as the preeminent scientist in this field.
"Jeffrey Hollinger is Mr. Bone Tissue Engineering," said CIT Dean John Anderson during an open house for the center on Feb. 27. "He has put us on the map."
Hollinger deflected self-praise and lauded his team of "thoroughbreds."
"We're here for a short period of time and we each need to do something positive and this is what I want to do," Hollinger said. "I love the people I work with. These people are the very best. I know we will be successful."
Hollinger said the best way to repair a wound is to use living tissue that becomes completely integrated with the patient.
"Bone is dynamic and continuously renews itself. Our goal at the center is to discover the fundamental elements responsible for these processes and exploit them for therapeutic applications," he said.
What Hollinger and more than 3,000 other bone tissue engineers have found is that bone tissue cells need something to grow on. Real bone cells deposit themselves on a matrix that's a composite of an organic material. The central theme of bone tissue engineering for Hollinger and his peers is to identify molecules that cause cells to migrate to a site, grow and connect together. Injecting these molecules into a wound can then help to enhance healing.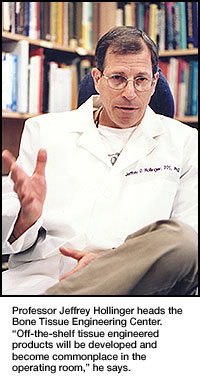 Many initiatives are under way in the center, including the Anterior Cruciate Ligament project, which is attempting to engineer a new ligament that can be transplanted into the knee. Another project has identified a gene (Runx2) that can be injected into a wound to enhance healing. Hollinger has led a successful effort replacing part of a young girl's skull.
Hollinger said the challenge for bone tissue engineers is to create ways of growing bone that automatically incorporates a blood vessel network into the tissue. Bone and tissue need to constantly exchange nutrients, waste products and chemical messengers with the blood to function. And cells need cues to organize into tissues, he explained.
"The whole idea of the Center for Bone Tissue Engineering is to give the cells just enough cues to let the body do the rest," he said. "Off-the-shelf tissue engineered products will be developed and become commonplace in the operating room."
At present, remodeling bone for surgeons is difficult. Hollinger said that an off-the-shelf tissue engineered bone therapy will ease surgical challenges and improve patient outcomes.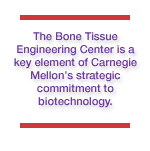 "It is a technical challenge to change the shape of a bone you may need for an operation," he said.
Surgeons can perform what is known as an autograft, replacing missing tissue with the patient's own by taking it from another part of the body. Tissue engineers commonly refer to this technique as "robbing Peter to pay Paul." The growing preference is to have more bone tissue available for surgeons.
In 2000, orthopedic surgeons performed more than 4.6 million procedures or $2.4 billion worth of work nationwide. Globally, those same procedures, including hip, knee and spine injuries, accounted for $12.4 billion a year.
More than 60 startups employing 3,500 scientists and research staff spent nearly $600 million last year in bone tissue engineering research, according to the Tissue Engineering Society International. Cumulative spending in the area since 1990 exceeds $3.5 billion.
Officials at the non-profit Pittsburgh Tissue Engineering Initiative Inc. project employment of more than 500 people at 109 firms with annual operating revenue of $13 million.
"We want to be the premier research institute in bone tissue engineering," Anderson said, "and in the process help in the economic development of the Pittsburgh region."
Chriss Swaney
(03/08/02)