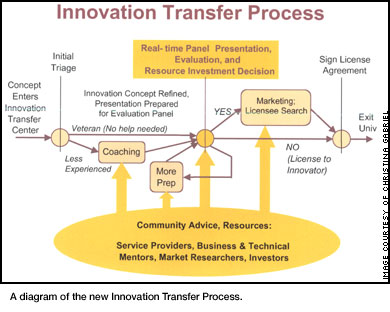 Innovation Exchange, a New Collaborative Model for Tech Transfer
Carnegie Mellon opened its Technology Transfer Office in 1993 to help researchers commercialize their innovations and start new companies. At the time it was one of a very few places where university entrepreneurs could go for help.
Since its inception, the office has helped to spin off about 50 companies and has produced intellectual property licensing agreements with about 65 commercial firms. Overall, more than 120 Pittsburgh area companies, which employ thousands of people, have been founded by Carnegie Mellon principals or with university technology.
The university and its inventors have shared more than $60 million in royalties and capital gains with the majority of that total ($48 million) coming from the sale of the university's stock in Lycos, an Internet search engine developed at Carnegie Mellon by Michael Mauldin, formerly of the School of Computer Science (SCS). The Lycos deal helped fund construction of Newell-Simon Hall, the new home of SCS.
But times are changing in Pittsburgh and so is tech transfer at Carnegie Mellon.
Pittsburgh has become a friendlier place for individuals seeking to bring new concepts to market and to start new companies. There are many more experienced entrepreneurs in the community and regional economic development organizations with the business acumen to advise and counsel, and there are many, many more resources available. In 2000, the Pittsburgh Technology Council reported that the venture capital coming into the region reached an all-time high of $741 million, 233% more than in 1999.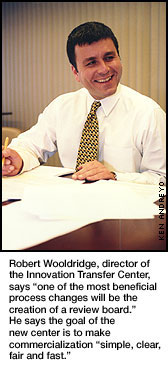 Spurred by the changing climate, Carnegie Mellon's University Research Council (URC), a committee of faculty and staff representing all colleges and schools and who have experience with commercialization, has crafted a new collaborative tech transfer approach called Innovation Exchange(www.carnegiemellon.edu/innovation). The URC is chaired by Vice Provost for Corporate Partnerships and Technology Development Christina Gabriel.
The idea, which draws on best practices developed here and at other schools, aims to encourage entrepreneurial activities on campus, while building stronger ties with university faculty and researchers across all disciplines and with business leaders in the Pittsburgh and larger Carnegie Mellon communities.
In the new concept, the Technology Transfer Office will be called the Innovation Transfer Center because "not everything commercializable is technology and that innovations at Carnegie Mellon come from the arts and humanities as well," Gabriel said. "Our council was reminded that the River City Brass Band is just one example of a 'non-tech' Carnegie Mellon spin-off."
Robert Wooldridge, former deputy director of the Technology Transfer Office, is the new director of the Innovation Transfer Center. Wooldridge will lead the restructuring of Carnegie Mellon's commercialization efforts so that they reflect the university's collaborative, problem-solving culture. The new approach will not only serve the entire campus, but will bring external expertise into the process more closely than ever before.
With a goal to make commercialization "simple, clear, fair and fast," the Innovation Transfer Center hopes to achieve a higher volume of successful licensing and new company creation, especially to benefit the Pittsburgh regional economy, Wooldridge said.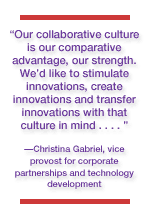 In the past four years, Wooldridge has completed more than 100 licensing and research agreements and played a major role in the formation of seven Carnegie Mellon spin-offs. He has worked with more than a dozen university start-ups in various capacities, including past or present seats on the board of directors of five startups—Mediasite, Wisdom Technologies, Bonecraft, Carnegie Technology Education and Carnegie Interactive. He is currently serving as interim president of Carnegie Interactive.
Prior to joining Carnegie Mellon, Wooldridge spent 10 years in industry, the majority of that time with a manufacturer of electrical and electronic components. He worked closely with industrial partners throughout their commercialization process—from design, research and development through product introduction.
"I believe one of the most beneficial process changes will be the creation of a review board," Wooldridge said. "Given the wide variety of innovative research activities across campus and the relatively small number of individuals in the Innovation Transfer Center, there is always the potential for gaps in expertise or familiarity with particular markets.
"By utilizing internal experts, alumni, external specialists and others with deep domain knowledge to enhance our own capabilities, better decisions will be made faster as redundant efforts are eliminated," he said.
Gabriel agrees.
"The most important thing about the new model is there's going to be a lot more collaboration, not just across campus, but with the Pittsburgh community," Gabriel said. "The decisions that the university makes about commercialization should be made with the advice of people who have experience in those specific industry sectors and in industry in general."
Gabriel said in the original tech transfer model decisions were primarily made by a licensing officer with limited outside advice. She said the inventor and licensing officer would try to do their own market research to determine what steps to take.
"We want to have a conversation around a table with people who can add value to the decision," she said. "In the new model the inventor and licensing officer will work together to come up with a pitch and then present it in real time to a group of people around a table whom we chose, together with the innovator, based on their expertise."
The group of advisers, which will change depending upon the innovation, will include faculty members who know the technology, people from industry "where the invention might land" and individuals with financial expertise.
"Each innovation—from all over campus—will get a fair hearing in a timely way, and each will have access to better expertise," said Gabriel, who noted that more than 100 innovations are produced from Carnegie Mellon research each year.
"Judging which commercial opportunities to pursue and then developing an effective strategy to carry each one forward requires experience, wisdom, and a deep understanding of the innovation and the industry sectors that could offer the best markets for its applications."
The Innovation Transfer Center will allow Carnegie Mellon to build bigger and stronger networks in Pittsburgh and develop relationships with key players in the region.
"Being successful is not only about how the money flows, it's just as much about what people learn from each other," Gabriel said.
In addition to collaborating with experts in the Pittsburgh community, the Innovation Exchange model will offer an interdisciplinary educational and training component.
Seminars and printed and Web materials on the "nuts and bolts" of commercialization will be developed. The educational efforts of the Don Jones Entrepreneurship Center in the Graduate School of Industrial Administration will be expanded to add new offerings and to better connect with other management and business courses across campus. "Foundations to Frontiers" courses by faculty researchers for their colleagues in other disciplines, an offering begun last fall to stimulate innovation across the campus, will continue.
Associate Professor of Biological Sciences Jonathan Minden taught a class in molecular cell biology to a group of about 30 varied faculty and staff last fall. More than 100 researchers from across the campus expressed interest in taking the class, but the class size was limited to 30 to enable rich discussions. The lectures and discussions were videotaped and posted on the Web (http://telstar.ote.cmu.edu/ote/mindensbiology/index.html) for broad distribution. Minden's "Foundations to Frontiers" concept has been so well received across the campus that a design class is scheduled for this spring and an engineering class will be taught next fall.
"It's been remarkable how many of the big innovations and discoveries throughout history have come from collaborations across disciplines," Gabriel said. "The more you can get people working together the more you can get these types of innovations to germinate.
"Carnegie Mellon is best known for doing really high-quality collaborations. People come here because they're very, very good at what they do and they want to work with people in other fields on the most important problems they can find. That's what we're known for, and when you come here you discover that that's really true.
"Our collaborative culture is our comparative advantage, our strength. We'd like to stimulate innovations, create innovations and transfer innovations with that culture in mind, and in a way that builds and strengthens the larger Carnegie Mellon community," she said.
In the spirit of collaboration, Wooldridge and Gabriel are seeking input for the Innovation Transfer Center's new Web site (www.carnegiemellon.edu/innovationtransfer). To offer feedback on the site, contact Brenda Hetrick at bhetrick@andrew.cmu.edu. Questions and comments regarding the Innovation Exchange program (www.carnegiemellon.edu/innovation) should be directed to Gabriel (cgabriel@andrew.cmu.edu) or Wooldridge (raw@cmu.edu).


The University Research Council (two-year terms)
Christina Gabriel, vice provost for corporate partnerships and
technology development, chair

Michael Shamos, principal system scientist, Institute for eCommerce
and Language Technologies Institute, vice chair

Meg Stanko, executive officer, Faculty Senate

Tom Emerson, director, Don Jones Center for Entrepreneurship

Kaigham Gabriel**, professor, Robotics Institute and Electrical and
Computer Engineering

Paul Hopper* **, professor, English and Linguistics

Anne Humphreys*, technical staff member, Learning Systems Architecture
Lab

Peter Lee, professor and associate dean for undergraduate programs, Computer Science

Tom Longstaff, technical staff member, Software Engineering Institute

Jonathan Minden, associate professor, Biological Sciences

Eric Nyberg, associate professor, Heinz School and Language Technologies Institute

Henry Piehler**, professor, Mathematical Sciences, Engineering and Public Policy, Biomedical and Health Engineering, Materials Science and Engineering

Joel Smith, vice provost for computing services and chief information officer

Craig Vogel, professor and associate dean, Design

Howard Wactlar, vice provost for research computing, Computer Science


* Senator
** URC member 1999-2000
Bruce Gerson
(03/08/02)