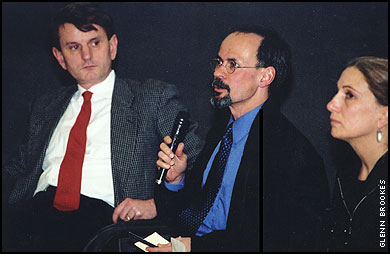 Making a Living, Living Your Dream
Design Professor Dan Boyarsky (center, top photo), Professor Alan Fletcher (left), head of the School of Music, and Art Professor Pat Bellan-Gillen participated in the College of Fine Arts (CFA) faculty roundtable discussion at the third annual "Making a Living, Living Your Dream: A Forum for Students and Arts Professionals" in late February. CFA schools and departments hosted professional development sessions for students throughout the day. Following the roundtable discussion, a networking fair that included arts professionals and CFA alumni closed the program.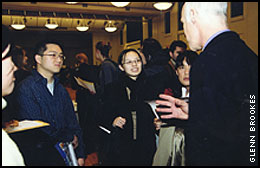 Participants included Jeffrey Dorsey (A '94), arts manager for the Penn Avenue Arts Initiative, Allan Naplan, artistic administrator for the Pittsburgh Opera, Stuart Knoop (A '56), principal of Oudens and Knoop Architects, Christopher Eid, student outreach coordinator for the Actors' Equity Association, and Kathryn Cohen (A '00), exhibit designer for Gallagher and Associates. The event was co-sponsored by the Career Center, CFA, the English Department and the Entertainment Technology Center.


... And Dancing Your Dream


Events Management Specialist Andrew Peuschel (HSS '01) and his dance partner Starlene Beran competed in the St. Louis Star Ball on March 9. The ballroom dance enthusiasts have qualified for the Amateur National Ballroom Dance Championships in Minneapolis, Minn., this summer. Here they are pictured at a performance held on campus last December.


Happy Birthday Bill!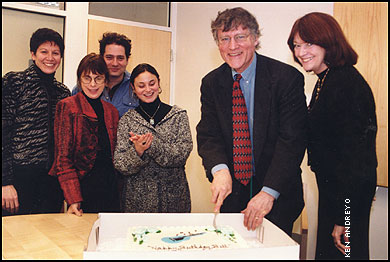 Bill Ferris, former chairman of the National Endowment of the Humanities, got a surprise 60th birthday party following lunch in Baker Hall on Feb. 5. Ferris, an inductee of the Blues Hall of Fame, was visiting campus to deliver a guest lecture for the Center for the Arts in Society (CAS). He accompanied himself on the guitar during his lecture. Pictured above are (l-r) Andrea Lehman, director of development for the College of Humanities and Social Sciences (H&SS), CAS Director Judith Modell, CAS postdoc Larry Bogad, H&SS student Andi Georgiana, Ferris and Elaine King, professor of art history/theory.


Sekerka Named President of International Crystal Growth Organization

Robert Sekerka, University Professor of Physics, Mathematics and Materials Science, has been elected president of the International Organization for Crystal Growth (IOCG) for a three-year term. Sekerka is the first scientist from Carnegie Mellon, and Pittsburgh, to head the group.
"The IOCG is a large but impressively cohesive group of scientists, and I'm honored to be the president," he said.
Sekerka has attended all but one of the IOCG gatherings over the past 30 years, most often as an invited or plenary lecturer. He also has attended as winner of the IOCG's Frank Prize, given in recognition of his groundbreaking work in advancing the fundamental understanding of crystal growth.
Sekerka will oversee the IOCG's next international conference in Grenoble, France, in 2004, and a related International Summer School on Crystal Growth in Berlin the same year.


School of Music Receives Education Grant

The School of Music, in partnership with the Pittsburgh Public Schools, the Wilkinsburg School District and the River City Brass Band, has received a grant from the U.S. Department of Education to develop a standards-based music curriculum for urban youth. The goal of the project, headed by Natalie Ozeas, associate head of the Music School, is to develop a music curriculum for inner—city middle-school students that is completely "hands on," and engages students with making and experiencing music.
Teachers and students from Arsenal, Columbus, Knoxville, Milliones and Reizenstein middle schools in Pittsburgh and Turner Elementary School and the Middle School in Wilkinsburg will participate in the project.
"Bringing music to the public schools is vitally important," said Alan Fletcher, head of the School of Music. "Carnegie Mellon has a mission of service to the community and Dr. Ozeas's project has lasting value not only for the children whose education it strengthens, but as a model for the future of music education."


Cooper and Students to Create Mural for Rome

Douglas Cooper, world-renowned muralist who recently was named the Andrew Mellon Professor of Architecture, will work this summer with the Department of Modern Languages to produce a historical mural for Rome, Italy. Four Carnegie Mellon students from different academic disciplines will sharpen their Italian language skills by interviewing residents of Rome to learn their perspective on the city's history.
Cooper is celebrated for his murals—immense, panoramic views chronicling a city's history. He spends months interviewing a city's residents and melds their stories and rough sketches to map out a memoir of each city.
Janice Vairo, a Carnegie Mellon instructor in Italian, will help prepare the students and work with them during the project. All work on the project will be conducted in Italian.
In 1996, Cooper, German Professor Steve Brockmann and four German language students produced a mural on location in Frankfurt, Germany, for the city's central food market, die Kleinmarkthalle.
In 1996, Cooper completed the 200-foot-long mural of Pittsburgh and the Carnegie Mellon campus for permanent display in Carnegie Mellon's University Center.

(03/08/02)