Microelectronics Pioneer Carver Mead Wins $47,000 Dickson Prize
Carver Mead, a pioneering inventor whose work helped to power the information age, will receive Carnegie Mellon's Dickson Prize in Science for his many contributions to microelectronics, digital photography and other science fields.
Mead will receive the $47,000 cash award at 4:30 p.m., Tuesday, March 19 in McConomy Auditorium, University Center. Following the award presentation, Mead will deliver the Dickson Prize lecture. His lecture, "The Coming Revolution in Photography," is free and open to the public.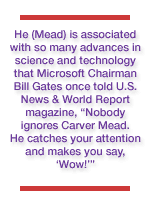 The Dickson Prize in Science is annually given to an individual who has been judged by Carnegie Mellon as making the greatest strides in a scientific field in the past year. Mead was nominated by Dana Scott, the Hillman University Professor of Computer Science, Philosophy and Mathematical Logic, and University Professor of Psychology Jay McClelland.
"For a long time, Carver Mead has been well regarded as a pioneer in electronics—both in contributions to fundamental science and to applications," Scott said.
Scott added that the nominating committee was intrigued and impressed with Mead's work in the "neuromorphic electronic systems," technology that imitates the brain and nervous system. This work includes the development of hardware that copies and enhances neural structure.
Mead is a pioneer in the field of neuromorphic electronics—he even coined the term—and his work in the field has influenced all scientists today who base their electronic designs on biological foundations.
He is associated with so many advances in science and technology that Microsoft Chairman Bill Gates once told U.S. News & World Report magazine, "Nobody ignores Carver Mead. He catches your attention and makes you say, 'Wow!'"
"All in all, Carver Mead exemplifies the interdisciplinary way of thinking that Carnegie Mellon values," Scott said.
A fifth-generation Californian whose father brought electrical equipment home from work for his son to experiment on, Mead got his start with electronics by "reverse engineering" ham radios. He is the founder of such technology companies as Foveon, Inc., which creates technologies for digital photography; Sonic Innovations, which developed a digital hearing aid; and Synaptics, which developed the computer touch pad, a device found on laptop computers that eliminates the need for a mouse.
As the founder of Foveon, he has overseen the recent release of the world's first full-color image sensor. Some of Foveon's work, as well as a general discussion of important technological advances in digital photography, will be covered in Mead's public lecture.
Mead was the Gordon and Betty Moore Professor of Engineering and Applied Science at the California Institute of Technology, where he taught for more than 40 years. He earned his bachelor's, master's and doctor's degrees from Caltech.
Mead received the $500,000 Lemelson-MIT Prize in 1999 for his work in the microelectronics field, specifically for his design ideas for the Very Large Scale Integrated (VLSI) circuits that are used in semiconductors, and for the High Electron Mobility Transistor (HEMT), the standard amplifying device used in microwave communications systems. This transistor, which consumers use every day when making telephone calls or dialing into the Internet, is also used in satellite and fiber optic links and cellular telephones.
He is the recipient of many awards, including the 1981 Achievement Award from Electronics Magazine, the 1996 Phil Kaufman Award from the Electronic Design Automation Companies, and the 1997 Allen Newell Award from the Association for Computing Machinery.
Laine Towey
(03/08/02)