"Green" Chemist Terry Collins Receives Thomas Lord Professorship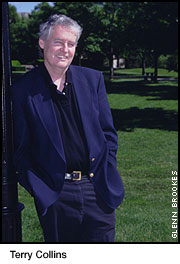 Terry Collins, who has created a new class of oxidation catalysts with the potential for enormous, positive impact on the environment, has been named the Thomas Lord Professor of Chemistry.
"Terry Collins has been recognized by professional organizations and industry. Now it is our turn to recognize his many accomplishments with the Lord Professorship in Chemistry - an honor that underscores his contributions as a champion in the field of green chemistry," said Provost Mark Kamlet.
Experts worldwide believe that Collins' systems can be used to effectively replace chlorine-based oxidants in large global technologies so that some of society's most toxic chlorinated residuals are not produced. The systems also enable valuable new technologies for previously unsolved environmental and health problems.
Collins, a member of the Mellon College of Science faculty since 1987, heads the Institute for Green Oxidation Chemistry on campus. The institute pursues research, education and development of holistic approaches in green chemistry, with an emphasis on replacing polluting technologies with benign processes.
His honors include the Environmental Protection Agency's 1999 Presidential Green Chemistry Challenge Award and Japan's Society of Pure and Applied Coordination Chemistry Award. Collins is an honorary professor of the University of Auckland, New Zealand, a fellow of the Alfred P. Sloan Foundation and the World Innovation Institute, and a Dreyfus Teacher-Scholar. He is associate editor of the Americas of the Journal Green Chemistry.
Collins developed a series of metal-containing catalytic peroxide activators that can be used in the pulp and paper industry, for water purification in diverse industries, for the facile destruction of dangerous pollutants including chemical warfare agents, for removing sulfur from fuels, and for products as commonplace as laundry detergent.
The activators, called tetraamido-macrocyclic ligand (TAML®) activators allow hydrogen peroxide to be used instead of harmful chlorine. TAML research is the keystone of decades of Collins' work to develop green, or environmentally friendly, processes for industry. Using an interactive process similar to natural selection, Collins' challenge was to design new, largely organic bleaching reagents that would not be consumed by the reactions they catalyzed.
To avoid toxicity, the new catalysts were designed to consist of the common elements of biochemistry, carbon, hydrogen, nitrogen and oxygen atoms around a reactive metal core, commonly iron. The resulting TAML activators work at extremely low concentrations, and are very stable, being held together by strong chemical bonds that resist breakdown by the highly reactive oxygen species which form as active intermediates from the hydrogen peroxide.
Collins and his research team have been awarded 15 patents for their work. He says this number will grow significantly.
Collins learned of the insidious health damage caused by pollutants from paper and pulp mills and pesticides in his native New Zealand. He began exploring whether there could be an environmentally benign and cost-effective new technology to avoid or to destroy the pollutants. After a major breakthrough five years ago in the ligand design, Collins and his fellow researchers achieved both goals and more.
"Oxidation processes that employ hydrogen peroxide instead of chlorine-based compounds can now be used to avoid and eliminate pollutants in these and other industries. And there are application areas still to be discovered," Collins said.
He earned his undergraduate and doctor's degrees from the University of Auckland, New Zealand.
Teresa Sokol Thomas
(03/08/02)