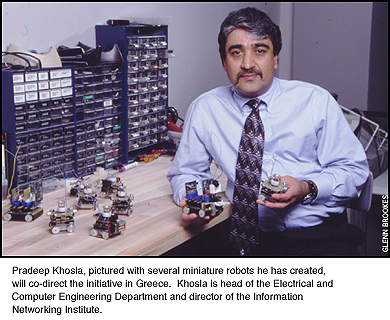 University Joins Greek Institution to Offer Master's in Information Networking
Carnegie Mellon will offer a master's degree this fall in Europe in collaboration with the Athens Information Technology Institute (AIT) in Greece to meet the demands of growing Internet technologies, including Internet security systems and telecoms, high-speed networking and wireless mobile computing.
Carnegie Mellon and AIT will offer a four-semester program culminating in a Master of Science in Information Networking degree from Carnegie Mellon's Information Networking Institute. The Information Networking Institute was founded in 1989 by Carnegie Mellon's engineering, computer science and business schools.
Program curriculum ranging from principles of broadband networking, managerial economics and software engineering will be taught by faculty from both Carnegie Mellon and AIT. AIT is building a new campus, with state-of-the-art research and education facilities, in Peania, a few miles from downtown Athens.
The new program will be under the leadership of Christos Halkias, dean of AIT, and Pradeep K. Khosla, head of Carnegie Mellon's Electrical and Computer Engineering Department and director of the Information Networking Institute. The new program is scheduled to begin in September 2002 with about 30 students. All of AIT's academic activities will follow Carnegie Mellon's academic procedures and standards.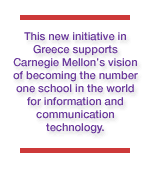 In Greece, AIT, having the legal status of a laboratory of liberal studies, will operate within the Research and Education Society in Information Technologies, a nonprofit corporation founded by the Intracom group of companies. Founded in 1977, Intracom is the largest manufacturer of telecommunication equipment and information systems in southeast Europe.
Intracom's vision is to turn AIT into an international research and education hub in software engineering, electronics and telecommunications.
"We see this new degree program as a way to bridge the talents and resources of two of the world's oldest democracies and with one of America's great technologically advanced universities," said Carnegie Mellon Trustee John G. Rangos Sr., a businessman, philanthropist and entrepreneur who is of Greek ancestry.
"This is a great opportunity for Carnegie Mellon to establish a presence in Europe where new business and industry sectors can have access to some of the best minds and research in the world," Khosla said.
"Carnegie Mellon will continue to identify opportunities like this one where our leading strengths in areas such as information technology, cyber security and computing can foster strategic international partnerships," said Carnegie Mellon President Jared Cohon.
"This is an example of how our university teams up with industry and educational institutions across the globe to address important social, scientific and economic issues. This is also an example of how our faculty, trustees and administrators collaborate on strategic objectives for the university and its focus on global outreach."
Khosla said the program is designed to tap the interests of mid-level professionals seeking to improve job skills and economic status.
"Our vision is to offer courses with the right mix of technical specialization spanning such important business sectors as telecommunications, wireless computing, systems integration, computing and financial services," Khosla said.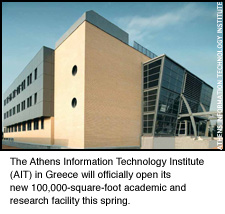 "Education and lifelong learning are the dominant factors in our ability to compete in the global economy," Halkias said. "Our collaboration with Carnegie Mellon aims to create a center of excellence for research and education in information technologies and to become a magnet for talented and ambitious graduate students and professionals in southeastern Europe."
Carnegie Mellon's Information Networking Institute is a leader in developing mobile applications for emergency response, health care and systems for the mining and construction industry. All of the institute's work and research has been sponsored by a variety of information technology providers from the United States and Europe.
"The Information Networking Institute has grown to be a very important component of education in information technology, and its integration of engineering, computer science and business makes it a unique program now at an international level," said John L. Anderson, dean of Carnegie Mellon's engineering college.
An official opening celebration for AIT's new 100,000-square-foot academic and research facility is scheduled for this spring.
Chriss Swaney
(03/08/02)