Student Develops Innovative Linux Application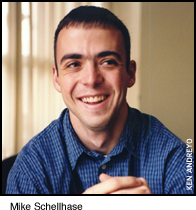 Carnegie Mellon's Mike Schellhase was one of 25 winners in a field of more than 1,400 students in IBM's first Linux Scholar Challenge for designing an application that improves software testing.
Schellhase, an engineering and computer science major, said his "Rtest" software runs alongside other applications, sending test signals at specific points throughout the execution process. The purpose of the project was to synchronize how and when program processes are reviewed in order to standardize software testing and improve the overall performance of tested applications.
Schellhase and the group of winners from 14 countries were awarded ThinkPad laptops for developing the most innovative open-source applications. Winners of the challenge included students from Australia, Bulgaria, China, Finland, France, Germany, India, Italy, Korea, New Zealand, Portugal, Spain, the United Kingdom and the United States.
"This was a great contest to participate in," Schellhase said. "I was thrilled to offer my input as an experienced programmer since Linux is a large component of our school's technology."
The predominant number of entries included Linux projects that enhanced usability, developed an application, or built tools for the Linux environment. An IBM panel of technologists from IBM Research, the IBM Linux Technology Center and other knowledgeable Linux personnel selected the winners.
Chriss Swaney
(03/08/02)