Cognitive Science Expert John Anderson Earns R.K. Mellon Chair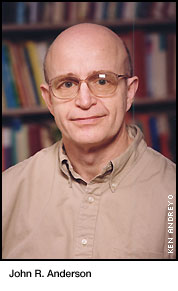 John R. Anderson has been named the R.K. Mellon University Professor of Psychology and Computer Science in recognition of his award-winning work in cognitive science, particularly his ACT-R theory that has resulted in successful educational tools for children studying mathematics. The chair was originally held by the late Herbert A. Simon.
Psychology Department Head Roberta Klatzky said the recognition is well deserved.
"Many fine psychologists produce remarkable records of research, in both quality and quantity," she said. "From my perspective, John leaps to the forefront of those esteemed researchers on the basis of two extraordinary contributions. One is his enduring commitment to developing a broad, yet deeply specified, theory of the mind. His ACT model now incorporates rule-based and neural mechanisms to account for basic intellectual functions including memory, language, problem-solving, rational behavior and spatial processing.
"John's second contribution is to bring the model out of the laboratory and into applied settings. He and his colleagues have used ACT as the basis for a series of cognitive tutors that are widely used in schools. He has transformed it into a programming language, thereby offering its power to many other researchers. John deserves to be honored for outstanding contributions to both basic science and real-world problems," she said.
Anderson's research led to the creation of computer tutors for mathematics that were first experimented with in Pittsburgh schools. The highly successful tutors are now used in schools and colleges nationwide.
His work also led to the creation of a spin-off company, Carnegie Learning, Inc. Carnegie Learning is commercializing a series of the software-based, cognitive tutors that have been successfully teaching algebra and geometry to middle school, high school and college students since 1993.
The tutors are based on Anderson's learning model that blends research in cognitive psychology with artificial intelligence to diagnose learning difficulties and coach students at any time as they work through a problem.
As a member of the Carnegie Learning board of directors, Provost Mark Kamlet has seen the impact of Anderson's work.
"It is impossible to estimate the profound impact that John's work has had on the lives of many high school students," Kamlet said. "Geometry and algebra are critical gatekeeper courses for high school students planning to attend college. We can deeply appreciate the profound impact his work has if we consider how the cognitive tutors have enabled young people across the nation to realize their dreams of attending college."
A member of the university faculty since 1978, Anderson is a member of the National Academy of Sciences, one of the highest honors accorded to a scientist or an engineer. He also is a member of the American Academy of Arts and Sciences.
He received the American Psychological Association Distinguished Scientific Contribution Award in 1994, and is a past president of the Cognitive Science Society.
Anderson is the author of several research texts and hundreds of research papers.
Teresa Sokol Thomas
(03/08/02)