Stationery & Presentations
Each letter or business card is an opportunity to build recognition for Carnegie Mellon University. When the stationery is consistently designed, it strengthens the university's visual identity and contributes positively to our institutional image as a whole.
The university uses a traditional, left-aligned format as the primary design for all official university letterhead and business cards. A secondary right-margin header is also available for layouts that require more vertical writing space. Microsoft Word templates are available for download.
The university has provided two PowerPoint templates for easy download and use, one using the more traditional Digital Tartan and a second, more dynamic one including the Tartan Wave. Choosing to use one of these two templates ensures that your presentation supports the university brand.
PowerPoint Templates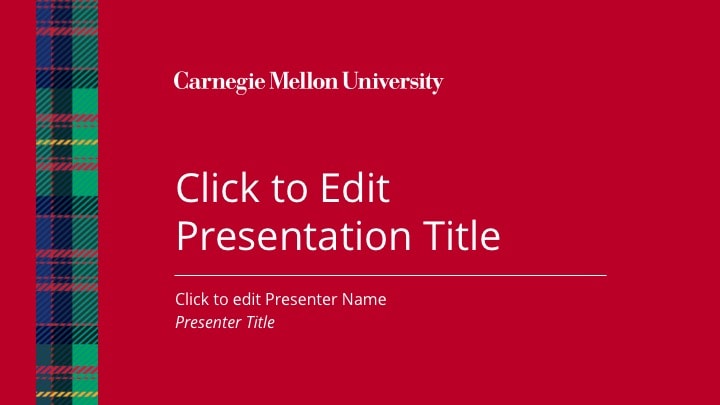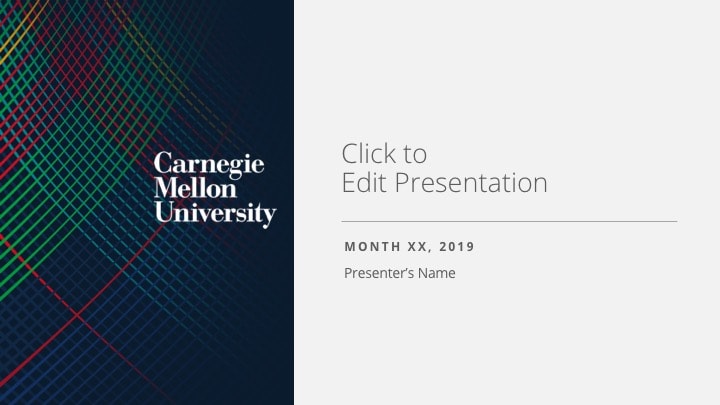 Download the templates.
Custom Presentations
Often, higher-profile presentations — such as executive-level meetings, international summits or peer institution research gatherings — require special design concept and execution. If your presentation requires a professional impact, email University Communications & Marketing at marketing-info@andrew.cmu.edu.
Building Your Own
If you choose to build your own presentation, follow these simple guidelines for the most impact and brand consistency:
Images: Go big. Limit the amount of text on screen. Your audience came to hear you speak, not read a PowerPoint. Tell your story with compelling visuals (see Photography & Video).
Typeface: Use only Open Sans, the preferred typeface of Carnegie Mellon University. If there is risk that the presentation device does not have Open Sans, use Helvetica as an alternate font.
Colors: Follow the color guide.