Merchandise Guidelines
All merchandise should follow the guidelines under Visual Identity. The following exemptions clarify how and when to use the unofficial Carnegie Mellon University marks on merchandise only.
John Marano, of the Trademark Licensing Office, must approve in writing all merchandise use of any marks — either official or unofficial — if the mark represents or references the university in any way. In addition, all such merchandise must be ordered through a currently active official trademark licensed company. Contact him at 412-268-3904 or marano@andrew.cmu.edu.
---
Merchandise-Only Graphics
Centered

The two-line stacked version may be used for full-front chest placement and can be used on other items as long as they are approved by the Trademark Licensing Office. This version is only used for a limited number of licensed merchandise in the University Store.
"Carnegie Mellon" Graphic

The omission of "University" from the Wordmark is allowed only on select University Store merchandise. The official Wordmark for "Carnegie Mellon" can appear horizontally or rotated 90° (i.e., on the spine of a binder or shirt sleeve). Avoid curves, arcs or diagonals.
Unofficial identities may be created for promotional expressions such as events, campaigns, initiatives, or social organizations; promotional expressions are not meant to represent official CMU units, be interchangeable with the college and department Unitmarks, or replace the primary CMU visual identities.
Promotional expressions are reserved for limited audience and duration and must be non-commercial. Therefore, these unofficial identities are not appropriate as a mark for official university units as those should be permanent identities in order to reinforce their relationship to the university brand.
When using a promotional expression for an event associated with the university or an official university unit, use of an official Unitmark or the university Wordmark is required in a separate location on the same material. (e.g - if on a shirt, a promotional icon can be on the chest while official Unitmark or Wordmark is on sleeve or back. On printed material the promotional icon and Unitmark could live in opposing corners, etc.).
From time to time, the university creates games, robots and other products in the public eye. To make sure the university is properly credited with these innovative efforts, we have developed the endorsement statement, "created by Carnegie Mellon University."
This statement should be used prominently on the product, closely following the product name. The use of the endorsement statement must be approved by legal, licensing and University Communications & Marketing to make sure the association with Carnegie Mellon is appropriate and fruitful for both the product and the university.
---
Campus Organization Merchandise
The following are guidelines for promotional products for official student, alumni, faculty or staff organizations.
Official Graphics
The official Wordmarks, Lettermark, Unitmark or Mascot Mark cannot be locked up with your group name or logo.
Each college, department and center has a Unitmark; this should be used as your "logo."
Do not create your own Unitmark. Contact the University Communications & Marketing brand manager at 412-268-9523 or marketing-info@andrew.cmu.edu. Your official Unitmark will be provided to you free of cost.
When using an official graphic, it is required to use a licensed supplier and obtain approval for the design from the Trademark Licensing Office. To license a supplier, contact John Marano, Trademark Licensing Office, at 412-268-3904 or marano@andrew.cmu.edu. 
Unofficial Graphics
Students, alumni, faculty, staff and other campus groups can use their group/organization name without the official Wordmarks.
"Carnegie Mellon University" and "Carnegie Mellon" can be included in an unofficial design or typeface on your item.
Your group/organization name or logo can be used without the official graphics; however, "CMU" cannot appear unless "Carnegie Mellon University" is also on the item.
If groups on campus use their own name or logo without the official marks, official colors are recommended, but not required.
You must use a licensed supplier when using our university name. To license a supplier, contact John Marano, Trademark Licensing Office, at 412-268-3904 or marano@andrew.cmu.edu.
---
Color in Wordmarks and Merchandise
Official Wordmarks — including horizontal, stacked, square and Lettermarks — must be in one of the university's Core Colors (Carnegie Red, Black, Steel Gray, Iron Gray and White).
The color of the merchandise/product that the official marks will be branded on must be included in the Core Colors or Secondary Colors palette.
Because of the requirement to use "Carnegie Mellon University" anytime "CMU" appears, the colors used for all the letters must follow the official color palettes.
When ordering merchandise, keep in mind that Carnegie Red is a difficult color for a manufacturer to match. The color in a reorder may be slightly different from the first shipment. Do your best to select the best possible match.
The colors of the mascot graphic must comply with the approved Mascot Mark Identity Guidelines. These guidelines discuss in greater detail the various color combinations for the graphic itself and the acceptable colors of the product it is branded on. Only the school colors can be used for both. The mascot graphic can be branded only on merchandise that is one of the four school primary colors (Carnegie Red, gray, black and white).
---
Registered Trademark Placement on Merchandise Only
The registration mark ® is inserted after "Mellon" when nothing follows it on the same line (e.g., the CMU Unitmark stacked version).

The ® is never placed between the word "Mellon" and "University" when the official wordmark is on one line.

The ® is never used anywhere when embroidery is the process used to decorate a product. It may appear too small and appear to be a period or an error, thus making its placement moot since the purpose is to "give notice." However, if it is enlarged to make it legible, it usually is obtrusive to the design.
Placement on other products through different applications is decided on a case-by-case submission taking into consideration the above points. If you have a unique need that is not addressed in these guidelines, please contact John Marano, Trademark Licensing Office, at 412-268-3904 or marano@andrew.cmu.edu.
Correct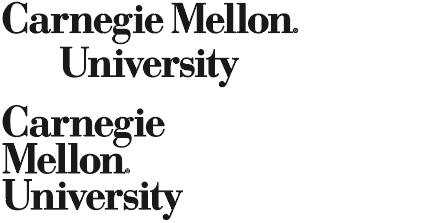 Incorrect