Dr. Philip R. LeDuc
William J. Brown Professor, Mechanical Engineering, Biomedical Engineering, and Biological Sciences
Contact
Address
Scaife Hall 420
Carnegie Mellon University
5000 Forbes Avenue
Pittsburgh, PA 15213
Education
B.S., Vanderbilt University, 1993

M.S., North Carolina State University, 1995

Ph.D., Johns Hopkins University, 1999

Post-doc, Children's Hospital/Harvard Medical School
Bio
Dr. Philip LeDuc is the William J. Brown Professor of Mechanical Engineering with appointments in Biological Sciences, Computational Biology, and Biomedical Engineering at Carnegie Mellon University (CMU).  He is the Founding Director of the Center for the Mechanics and Engineering of Cellular Systems also at CMU.  In these roles, Dr. LeDuc leads researchers in understanding biology through mechanical engineering approaches.  He also instructs students on the interface of engineering with biology and medicine. He is an approved faculty member of the M.D./ Ph.D. Program, Medical Scientist Training Program, a collaborative effort between the University of Pittsburgh and CMU.
Research
Two areas that have always been of interest to me are the mechanics of machines and the wonders of nature. My interest in mechanics, first beginning in a youth spent taking apart machines like lawn mowers, has intersected with my fascination with nature at the cellular and molecular levels. Here I will present how I have been intersecting mechanical engineering with biology. My lab approaches this intersection by envisioning cells and molecules as "systems" that can be investigated with some of the same fundamental approaches used on machines such as planes and automobiles looking for unifying principles. These systems range from mammalian cell to microorganism to developmental biology systems (e.g. mammalian cells, magnetic bacteria, energy generating bacteria, Xenopus laevis) and applies principles from mechanical engineering fields (e.g. solid mechanics, control theory, fluidics, heat transfer, design) to understand how these principles may apply across diverse nature-based systems. I also focus on linking mechanics to biochemistry at the cellular and molecular levels through examining structural regulation.
Research Interests: biological mechanical systems; mechanotransduction; biological microfluidics and MEMS; molecular micropatterning
In addition, I work on novel approaches to technology development through focusing on nature inspired design principles at the molecular and cellular levels. I pursue these goals through developing and utilizing nanotechnology, microtechnology, computational biology, and control-feedback theory. These intersections are especially fascinating to me as these systems have evolved for distinct reasons (the "initial and boundary conditions" are different). In addition, as an engineer, I truly am interested in building new systems from the knowledge that we obtain in a similar thought process as we use to build a new machine.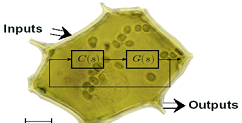 Awards and Recognition
William Brown Endowed Professor
Bill & Melinda Gates Foundation Grand Challenges Award (2nd professor ever at Carnegie Mellon to win this award)
International Biomedical Engineering Society, Board of Directors
American Institute for Medical Biological Engineering, Board of Directors/Treasurer/Secretary
Founding Director- Center for the Mechanics and Engineering of Cellular Systems.
Fellow- Biomedical Engineering Society (1st professor ever at Carnegie Mellon)
Fellow- American Society of Mechanical Engineers
Fellow-American Institute for Medical Biological Engineering