Dr. Keith E. Cook
The David Edward Schramm Professor and Head, Biomedical Engineering
Contact
Address
Scott Hall 4N120A
Carnegie Mellon University
5000 Forbes Avenue
Pittsburgh, PA 15213
Education
B.S.E., Mechanical Engineering, University of Michigan, 1993
B.S.E., Engineering Science, University of Michigan, 1993
M.S., Biomedical Engineering, Northwestern University, 1996
Ph.D., Biomedical Engineering, Northwestern University, 2000
Bio
Dr. Keith Cook is the David Edward Schramm Professor and Head at Carnegie Mellon University (CMU) in its Department of Biomedical Engineering. Prior to his appointment at CMU, Dr. Cook was a Research Associate Professor in Biomedical Engineering and in Surgery at the University of Michigan. It was at the University of Michigan where Dr. Cook obtained his BSE in both Mechanical Engineering and Engineering Science. He received his MS and Ph.D. in Biomedical Engineering from Northwestern University.
Dr. Cook's research interests include:
Advanced Respiratory Support: Design and development of artificial lungs, liquid ventilation hardware and techniques, and animal models of lung disease
Blood-Biomaterial Interactions: Development of biomaterials offering endothelial-like properties to increase the longevity of blood processing artificial organs
Pulmonary Drug Delivery: Development of perfluorocarbon emulsions for intra-pulmonary drug delivery to treat lung disease
Right Ventricular Function: Mathematical modeling of right ventricular function to better understand dysfunction under stressed states, such as high afterload and hypoxia
Dr. Cook is a member of the American Society of Artificial Internal Organs and the Biomedical Engineering Society. He is on the Editorial Board for the American Society of Artificial Internal Organs (ASAIO) Journal. In addition, Dr. Cook is a reviewer for numerous publications, including but not limited to, Biotechnology and Bioengineering, Annals of Biomedical Engineering, and Critical Care Medicine.
Research
Keith Cook's research focuses on applying engineering to critical care medicine. This research melds mechanical, chemical, and material science concepts toward the development of artificial and tissue-based lungs, pulmonary drug delivery, and the computational modeling and prevention of coagulation in medical devices.
Current research projects in his group include thoracic artificial lungs, biofabricated tissue-based lungs, new biomaterial approaches for reducing coagulation at artificial surfaces, and perfluorocarbon emulsions for pulmonary drug delivery. Of note, his laboratory was the first to produce 24-hour, one-week, and 30-day in vivo studies of thoracic artificial lungs, and his group is working on an artificial lung intended as destination therapy for years of respiratory support. Professor Cook currently serves as the Faculty Director of the Bioengineered Organs Initiative at CMU and is a fellow of the American Institute for Medical and Biological Engineering.
Research Interests: artificial lungs; hemodynamics; pulmonary drug delivery; liquid ventilation; right ventricular function; critical care medicine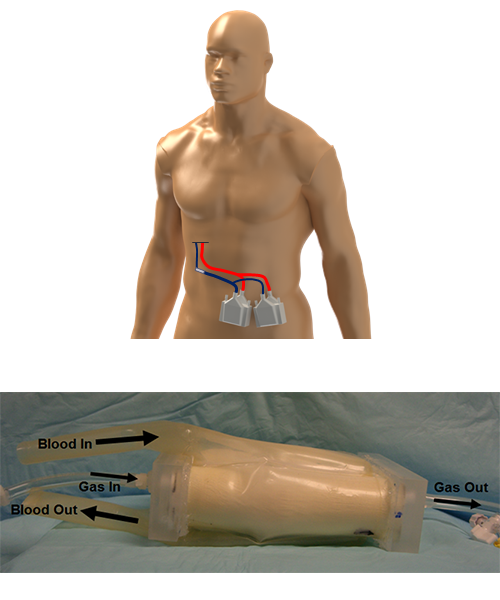 Awards and Recognition
Fellows, American Institute for Medical and Biological Engineering (AIMBE), 2018




Section Editor, American Society for Artificial Internal Organs (ASAIO) Journal, 2007-present

University of Michigan Research Faculty Recognition Award, 2011
Michigan Society for Medical Research Bennett J. Cohen Education Leadership Award, 2011
Top Abstract, American Society of Artificial Internal Organs, 2009
Top Abstract, Respiratory Section, American Society of Artificial Internal Organs, 2008