Dr. Dennis Trumble
Associate Research Professor, Biomedical Engineering and Center for the Neural Basis of Cognition
Contact
Address
Scott Hall 4N115
Carnegie Mellon University
5000 Forbes Avenue
Pittsburgh, PA 15213
Education
B.S./M.S.,

University of Notre Dame

, 1981

Ph.D., Carnegie Mellon University, 2010
Bio
Dennis Trumble uses multiscale computational models of the beating heart to develop implantable devices for cardiac assist purposes. His work to produce a unique muscle-powered heart assist device for long-term use stands to be a major advancement in the treatment of congestive heart failure.
Professor Trumble holds appointments in Biomedical Engineering and the Center for the Neural Basis of Cognition. His book, The Way of Science, was named AAAS/SB&F Best Book of 2014 in the category of Ethics. He is a recipient of the Idea Foundry Transformation Fellowship and DMDC Top Presentation Award. Dr. Trumble's research has been supported by the NIH, Pittsburgh Foundation, Innovation Works, Whitaker Foundation, and Allegheny-Singer Research Institute. His work on muscle-powered implants has been featured in Science Magazine, Scientific American, Popular Science, Men's Health, Herald-Citizen, Pittsburgh Post-Gazette and the Business Times. 
Research
Research in the Trumble lab focuses on developing innovative approaches to long-term mechanical circulatory support. Primary research activities center on the design, manufacture and testing of muscle-powered, non-blood contacting cardiac assist devices that avoid the major limitations of existing blood pump technologies used to support the failing heart over extended periods of time. Toward that end, we are currently working to develop a 'soft robotic sleeve' that will squeeze and twist the ventricles as prescribed by multiscale computer simulations programmed to identify the most effective pattern of direct cardiac compression/torsion in diseased hearts. This new approach to circulatory support could provide a versatile means to manipulate the mechanical environment of the heart to provide cardiac rehabilitation or recovery over time while avoiding the serious risks associated with blood contacting surfaces (thromboembolism, bleeding) and percutaneous drivelines (bacterial infection).
Research Interests: computational cardiac mechanics; muscle-powered implants; medical device design and optimization; cardiac assist devices; the nature of consciousness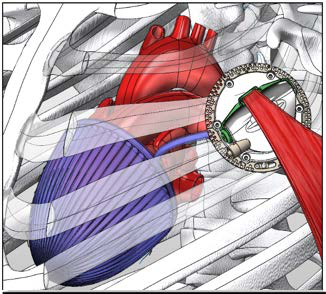 Awards and Recognition
Albert Nelson Marquis Lifetime Achievement Award, June 2017

Top Presentation Award, Design of Medical Devices Conference, 2016

ASAIO Entrepreneur's Forum Prize Winner, 2015
AAAS/SB&F Best Book of 2014 (Ethics): "The Way of Science"

Idea Transformation Fellowship, Idea Foundry 2014

SCCS 'Wall of Distinction' Inductee (Inaugural Member), 2005