Dr. Christopher J. Bettinger
Professor, Biomedical Engineering and Materials Science & Engineering
Contact
Address
Wean Hall 4315
Carnegie Mellon University
5000 Forbes Avenue
Pittsburgh, PA 15213
Education
Ph.D., Massachusetts Institute of Technology, 2008

Postdoctoral Fellowship, Stanford University
Bio
Dr. Bettinger received an S.B. in Chemical Engineering in 2003, an M.Eng. in Biomedical Engineering in 2004, and a Ph.D. in Materials Science and Engineering in 2008 as a Charles Stark Draper Fellow, all from the Massachusetts Institute of Technology. He completed his post-doctoral fellowship at Stanford University in the Department of Chemical Engineering as an NIH Ruth Kirschstein Fellow in 2010. He is currently an Associate Professor in the Departments of Biomedical Engineering and of Materials Science and Engineering at Carnegie Mellon University. He has received many honors including the MIT Department of Materials Science and Engineering Award for "Outstanding Ph.D. Thesis", the ACS AkzoNobel Award for Polymer Chemistry, and the Tissue Engineering and Regenerative Medicine Society Young Investigator Award. Prof. Bettinger is also a co-inventor on several patents and was a finalist in the MIT $100K Entrepreneurship Competition.
The Bettinger Group at Carnegie Mellon University is broadly interested in the applying principles of polymer synthesis, materials science, and microfabrication for use in next-generation biomedical devices for rehabilitation, regeneration, and controlled release. Members of the Bettinger Group work at the interface of several disciplines including polymer synthesis, characterization, microfabrication, and bioelectronics to achieve these goals.
Research
The Laboratory for Therapeutic Biodegradable Microsystems is broadly interested in the development of biomaterials-based MEMS for use in a wide range of biomedical applications including regenerative medicine, neural interfaces, and drug delivery. We use interdisciplinary strategies to develop next generation medical implants that combine extraordinary properties of biodegradability and biocompatibility with unique mechanical properties and electronic functionality. 

Our laboratory is currently focused on several specific thrusts including: BioMEMS for tissue regeneration, biodegradable electronic devices, biomimetic tissue-device interfaces, non-conventional microfabrication of biomaterials, rational biomaterials synthesis, and quantitative elucidation of biodegradation phenomena. 
Research Interests: BioMEMS for tissue regeneration; biodegradable electronic devices; biomimetic tissue-device interfaces; biomaterials synthesis; microfabrication of biomaterials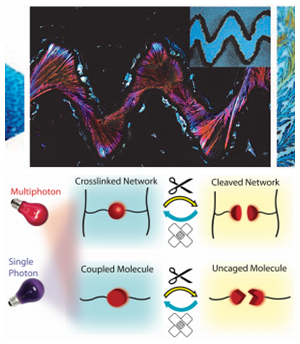 Awards and Recognition
Journal of Materials Chemistry Lectureship

MIT Tech Review TR35 Young Innovator

National Academies of Sciences Award for Initiatives in Research
George Tallman Ladd Research Award, Carnegie Institute of Technology
DARPA Young Faculty Award
Materials Research Society International Meeting Co-Chair, 2017