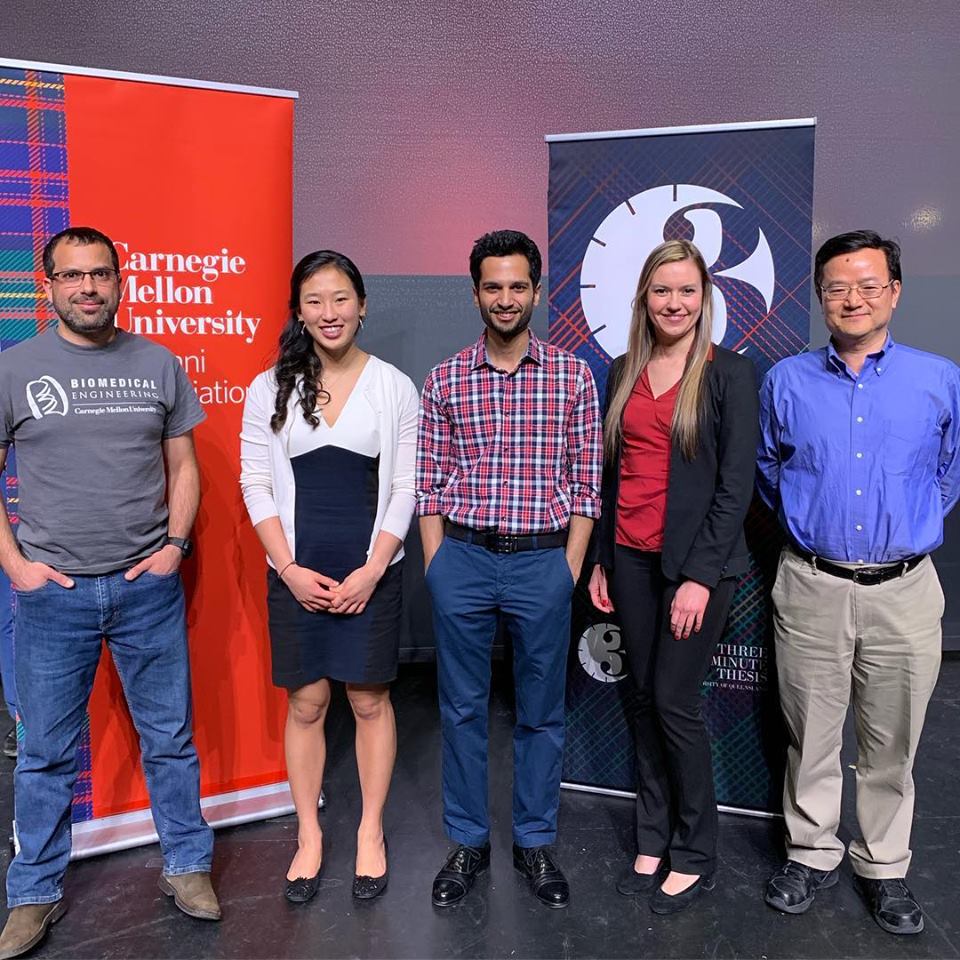 April 01, 2019
BME Students Shine in Three Minute Thesis Competition
On March 26, two students from the Department of Biomedical Engineering captured the spotlight at this year's Three Minute Thesis competition, sponsored by CMU Libraries. Rachel Niu won both Second Place and the People's Choice Award, while Sahil Rastogi earned the Alumni Choice Award. Together, these BME doctoral students captured three of the five prizes at the event, open to doctoral students from across Carnegie Mellon.
Three Minute Thesis (3MT®) is an internationally recognized competition that challenges Ph.D. students to present a compelling oration on their thesis and its significance in just three minutes, in language that anyone can understand. 3MT is not an exercise in trivializing or "dumbing down" research — but it requires students to consolidate their ideas, crystallize their research discoveries, and capture the imagination of their audience. Students can only use a single, static PowerPoint slide to illustrate their complex topic.
Rachel Niu's Ph.D. research involves using transcranial-focused ultrasound to noninvasively treat brain disorders. By safely exciting brain function at targeted regions, she hopes to selectively activate specific types of neurons, and deliver long-lasting, sustained therapeutic effects. This technology would allow health care professionals to deliver long-term therapy to patients with brain disease in a noninvasive, low-risk manner. 
"I participated in the 3MT competition to bring awareness to the important biomedical research being done at Carnegie Mellon," says Niu. "And, on a personal level, I wanted to challenge myself to develop my communication and presentation skills."
In winning Second Place overall, based on the judges' decision, Niu was awarded $2000 in funding for her research. She also captured the People's Choice Award, based on live voting by the audience, which earned her an additional $500 prize. 
"I would like to thank my advisor, Professor Bin He, for his continual support, my lab members for their feedback and guidance over the years, and all my friends who helped me revise my presentation," notes Niu. "I'm fortunate to be part of the graduate student community at Carnegie Mellon, with friends across the University — from Robotics and the Innovation Institute to Psychology and Journalism. Their diverse perspectives were so valuable in developing my presentation for Three Minute Thesis."
Doctoral student Sahil Rastogi is developing a unique nano-bioelectronic platform that uses graphene, a nanomaterial, to record both electrical and chemical signals of brain cells. His work could prove crucial for understanding normal brain function, as well as supporting the early diagnosis and development of therapeutics for devastating neurological diseases such as Alzheimer's and Parkinson's.
"I believe 3MT is valuable because it forces Ph.D. students to look at the bigger picture and the ultimate outcome of their work," Rastogi points out. "The need to explain years of convoluted and complicated research in three minutes — in layman's language — leads to an entirely new perspective on the research and creates a new thought process. I think that frames my own research in a better way."
Rastogi won the Alumni Choice Award, which is based on online voting by CMU graduates who watch the competition via a live stream on the Alumni Association's web page. The award includes $500 in funding for his research. Rastogi also won the Alumni Choice Award in 2018.
"I appreciate the support I received from the BME Department and especially Professor He, who encouraged me throughout the competition," Rastogi says. "I also want to thank my girlfriend, who pushed me to register and helped me prepare my presentation. Last but not least, I'm grateful to my lab members for their support and feedback during my practice runs, as well as  the friends and alumni who cheered me on, whether in person or online."