Undergraduate Post Graduation Placement
What do Biological Sciences students do after graduation? How many enter the workforce versus attending a graduate/professional school? What companies do they work for? What is their average starting salary? What graduate/professional schools do they attend?
Download the complete data set of our graduates' post graduation plans (.pdf files): 2008-2009
All charts and graphs listed below are based upon the 2008-2009 dataset.
Employment vs. Graduate/Professional School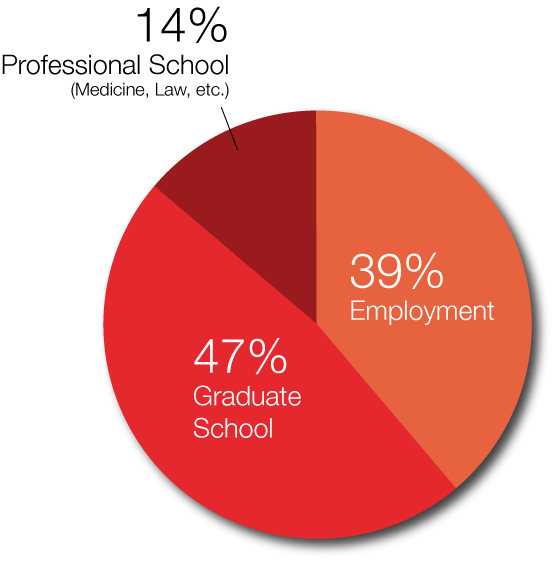 Starting Salaries
Industry Employment
| | | | |
| --- | --- | --- | --- |
| Maximum        | Minimum        | Mean       | Median        |
| $65,000 | $40,000 | $51,966 | $52,000 |
Academic, Clinical and Temporary Research Employment
| | | | |
| --- | --- | --- | --- |
| Maximum        | Minimum        | Mean       | Median        |
| $42,000 | $25,000 | $30,187 | $27,000 |
Employment by Region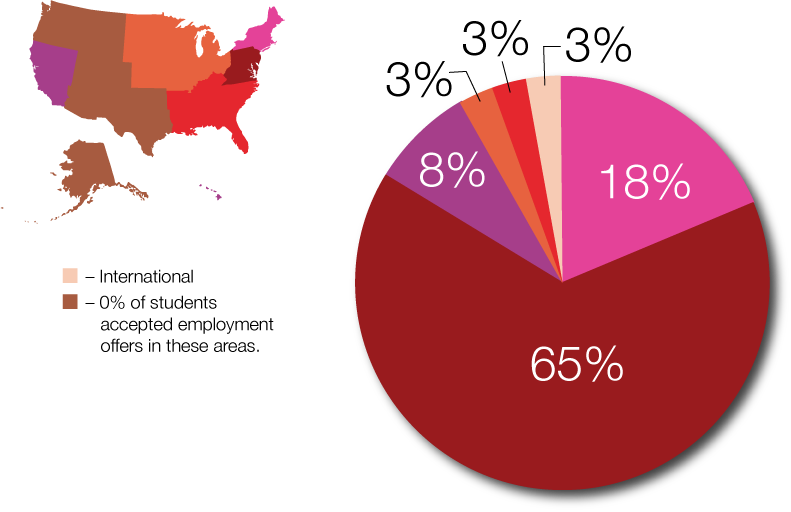 Job Titles of Recent Graduates
| | |
| --- | --- |
| 1 | Research Assistant |
| 2 | Intramural Research Training Award Fellow |
| 3 | Business Technology Analyst |
| 4 | Analyst |
| 5 | Financial Analyst |
| 6 | Account Sales Representative |
| 7 | Laboratory Technician |
| 8 | Research Scientist |
| 9 | Research Technician |
| 10 | Science Writer/Editor |
Companies Employing Recent Graduates
| | |
| --- | --- |
| 1 | Health Care Policy Management |
| 2 | Medicine |
| 3 | Biological Sciences |
| 4 | Biotechnology Management |
| 5 | Physical Therapy |
| 6 | Neuroscience |
| 7 | Genetics |
| 8 | Molecular Biology |
| 9 | Psychology (Developmental & Clinical) |
| 10 | Immunology and Virology |
Top Ten Graduate Schools Attended by Recent Graduates
| | |
| --- | --- |
| 1 | Carnegie Mellon University |
| 2 | Yale University |
| 3 | Harvard University |
| 4 | University of California at Berkeley |
| 5 | Boston University |
| 6 | Duke University |
| 7 | Columbia University |
| 8 | Johns Hopkins University |
| 9 | Stanford University |
| 10 | University of Southern California |
Top Ten Professional Schools Attended by Recent Graduates
| | |
| --- | --- |
| 1 | Johns Hopkins University |
| 2 | Dartmouth College |
| 3 | Drexel University |
| 4 | Temple University |
| 5 | Case Western Reserve University |
| 6 | University of Texas Southwestern School of Medicine |
| 7 | University of Massachusetts Medical School |
| 8 | Brooklyn Law School |
| 9 | Penn State University |
| 10 | Philadelphia College of Osteopathic Medicine |