December 16, 2020
Making an Impact
MCS Graduate's 'Nooks' Upgrade Campus Spaces for Students
By Emily Payne epayne(through)andrew.cmu.edu
Media Inquiries
Jocelyn Duffy
Associate Dean for Communications, MCS
Recent Mellon College of Science graduate Cory Bird wanted to leave something meaningful behind for fellow and future generations of Carnegie Mellon University students. So, as a fifth-year scholar, he founded the Nooks project to create learning and collaboration spaces for students around campus.
"During my fifth year I became fascinated in understanding how physical space influences lived experience," said Bird. "After spending quite a bit of time studying this topic, I wanted to apply what I learned and decided to identify some of the highest-impact, lowest-cost spaces or 'nooks' that would improve the experience for students from various majors and backgrounds."
Throughout his project, he worked with a number of individuals across the university to propose student study space renovations in buildings on campus. To accomplish his goal, Bird took full project management control — getting plans drawn up that had to be approved by the university, securing contractors and then helping to oversee the work being done.  
"Diving into foreign topics such as design, architecture and project management provided so many learning opportunities outside of my formal studies, which I'm incredibly thankful for," he said.
Many of the renovations began after COVID-19 hit, meaning many students and faculty have yet to experience the newly enhanced Nooks.
"I think it's amazing how Cory led this enormous effort to positively change our campus," said Bird's project advisor and Assistant Dean of Educational Initiatives Ken Hovis. "It's also great to know the university is still making significant changes to improve the campus experience for students even while many are remote due to COVID-19."
The main spaces that were updated through Bird's project include three spaces in Wean and Doherty halls. Bird also focused on updating furniture in the College of Fine Arts building's main hall and the lower level and second level of the University Center.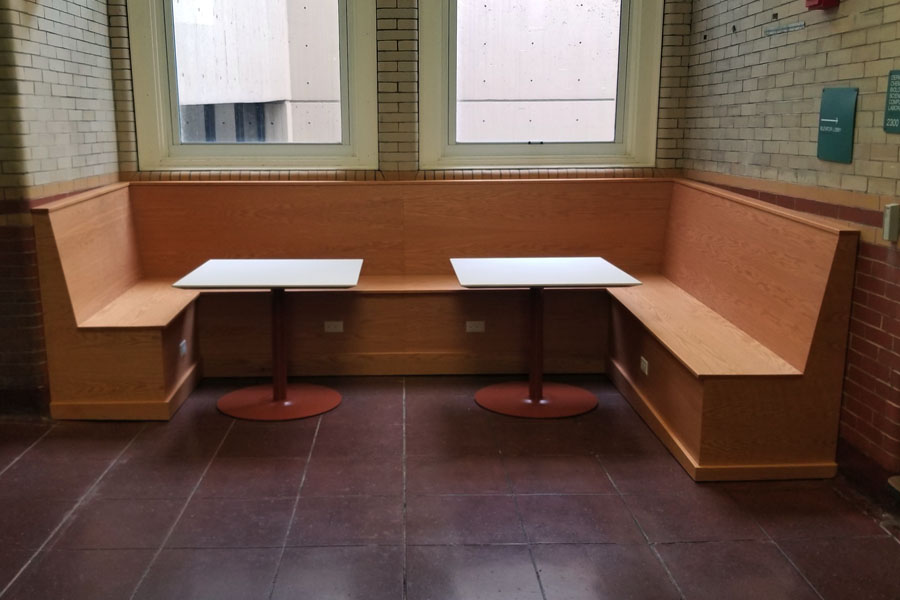 An updated Nook in Doherty Hall, level 2.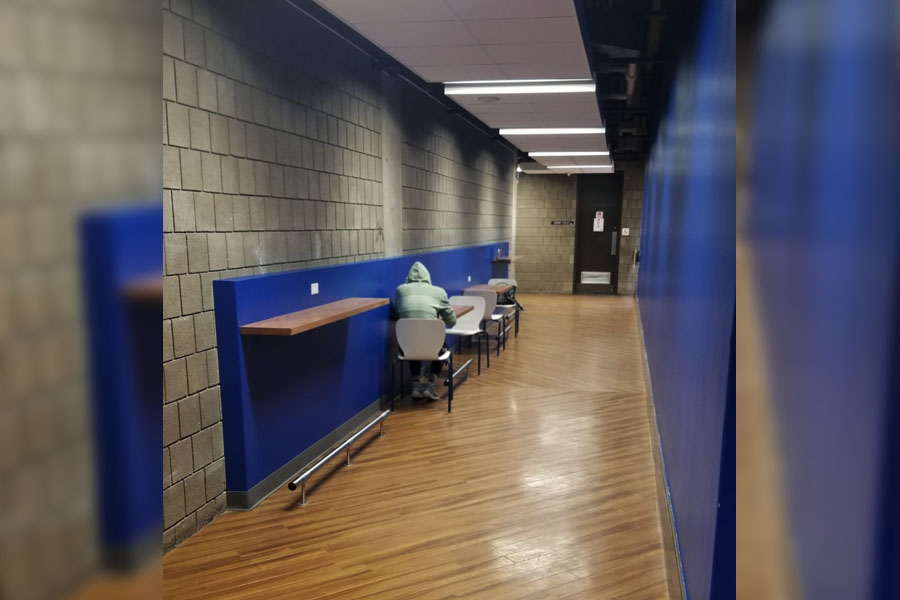 A bright update to the Wean Hall 5 corridor with tables and standing work stations.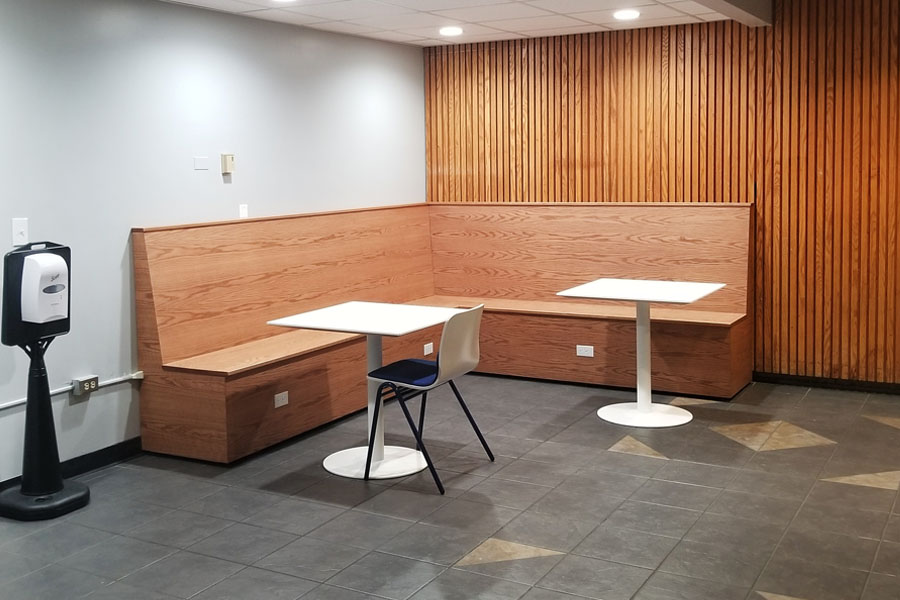 A new seating area in Wean Hall 2a.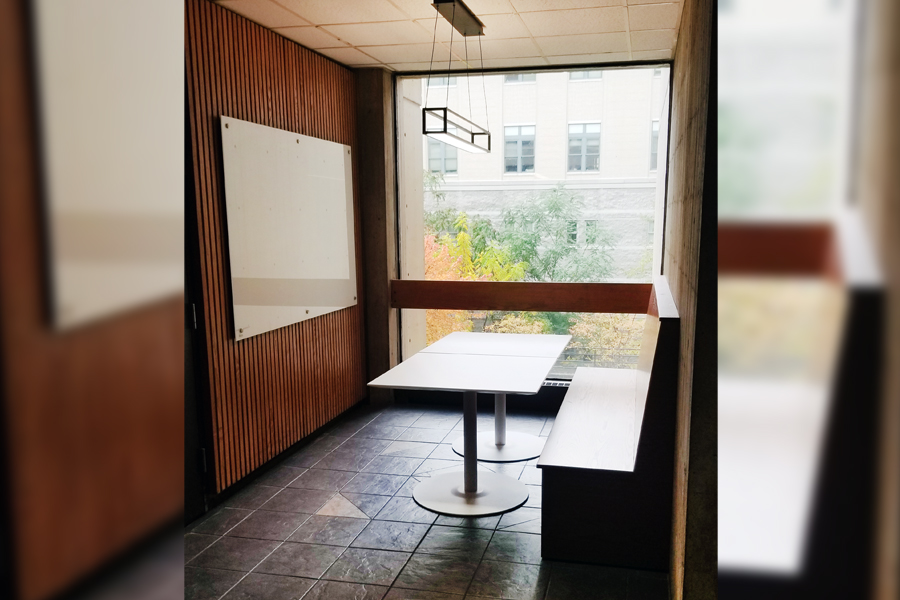 A cozy study space with a view, located in Wean Hall 2b.
"I was lucky enough to team up with some brilliant individuals who helped me bring the spaces to life.  None of this would have been possible without the Fifth Year Scholarship, Bob Reppe and McKenzie Bonnett in Campus Design, Ken Hovis, Renee Camerlengo and so many others," said Bird.
In honor of his hard work and dedication, Bird was recognized with the Carnegie Mellon Alumni Association's 2020 Student Engagement Award to be presented Dec. 16 at a virtual Alumni Awards ceremony.
A true CMU student, Bird explored interests far and wide across the university. He served as co-President of Project Rwanda, a student-led group aimed at enhancing ties between the CMU Pittsburgh and Africa campuses while working alongside primary and secondary school teachers in Rwanda; he also spent nearly two years organizing events to bring students together from the CMU-Africa, CMU-Qatar and Pittsburgh campuses. Bird was also involved with the Summer College Preview Program at CMU-Q for two years working as the calculus instructor.
Academically, Bird, a biological sciences major, enjoyed exploring the crossroads of his technical and social interests. While his studies focused on computational neuroscience, with a minor in environmental and sustainability studies, his undergraduate research experience later pivoted his interests toward astrobiology and planetary science. Bird conducted research on the CubeRover project (a two-kilogram rover slated to travel to the moon in 2021) under the guidance of Astrobotic Technologies and Founders University Research Professor William 'Red' Whittaker.
After graduating in May 2020, Bird began working in product management at Cricut with aspirations to pursue a Ph.D. in astrobiology in the future.