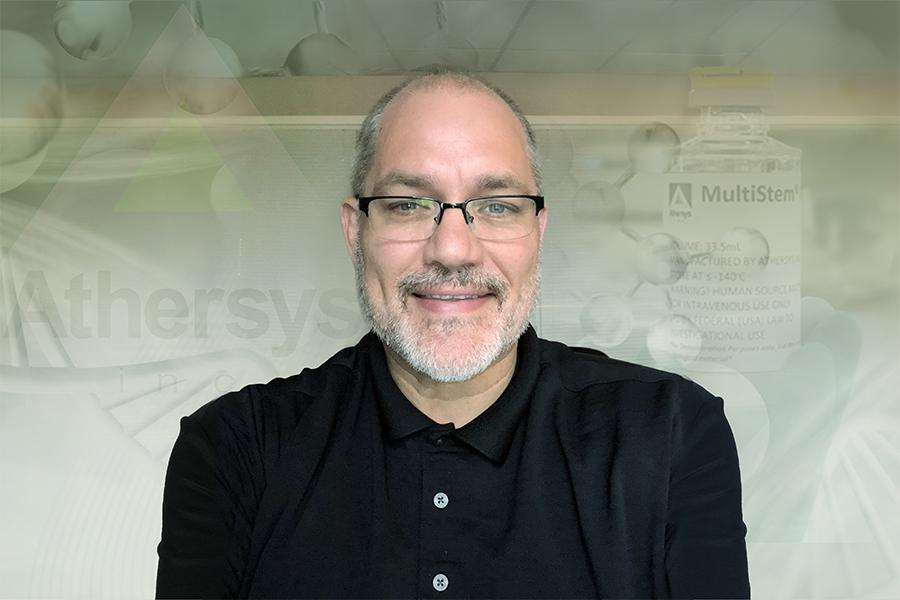 July 06, 2020
Unlocking the Power of Stem Cells
After nearly 20 years, Robert Mays is on the brink of bringing a groundbreaking stem cell therapy to market – just in time to help those suffering from COVID-19
In the race to treat COVID-19, alumnus Robert Mays (S 1987) is accelerating treatment for this life-threatening pandemic.
For nearly two decades as co-founder of Athersys, Inc. Robert has worked with his colleagues to bring the biotechnology company's stem cell therapy MultiStem® to the market.
In the coming months, their years of effort may change the momentum of COVID-19 treatments by offering a remedy for the most fatal complication caused by the virus — acute respiratory distress syndrome (ARDS).
With two successful trials completed since 2016, MultiStem® has been fast-tracked by the U.S. Food & Drug Administration and designated as a highly relevant therapeutic for COVID-19 by the federal government's Biomedical Advanced Research and Development Authority and its CoronaWatch program, which focuses on expediting diagnostics, vaccines, antivirals and therapeutic treatments for the virus.
"Our data shows that the stem cells were safe and well-tolerated in patients, and suggests that the stem cell-treated patients had meaningful improvements in lung function, got off ventilators faster and experienced improved mortality," says Robert, who serves as vice president of regenerative medicine and head of neuroscience programs at Athersys and earned his doctorate in molecular and cellular physiology at Stanford University.
"The timing of our trials was very fortuitous considering we didn't know, obviously, about the pandemic we are currently living through. Because of our data, we were able to quickly design, submit and initiate a Phase 2/3 trial in COVID-19-induced ARDS patients."
To date, no FDA-approved or effective medicine exists for ARDS — only limited interventions with high treatment costs such as BiPap or CPAP devices or ventilators, which also come with the risks of pneumonia, collapsed lungs or additional lung injury. In cases of COVID-19, the virus introduces pulmonary inflammation that causes fluid accumulation in the lungs and destroys its tissue.
"The immune system doesn't care, for the most part, why there is a large inflammatory signal, it just knows it must respond acutely and profoundly," Robert explains. "This innate immune response often leads to secondary physiological problems, similar to how COVID-19-induced ARDS occurs. We have data that the MultiStem® cellular product, when administered at the right places and proper time, causes a more balanced immune response with less secondary damage and hopefully improved patient outcomes."
And unlike a vaccine that may need to be tailored to fight a coronavirus mutation in the future, MultiStem® should continue to treat patients successfully regardless of why the inflammation starts.
Beyond COVID-19, Athersys' data and animal studies also show positive results in treatment of ischemic strokes, traumatic brain injuries, spinal cord injury and kidney issues among other health concerns.
"I learned about how to think like a scientist as an undergraduate. Carnegie Mellon taught me how to be goal-oriented, driven and when to take a risk, which helped in co-founding a biotechnology company," Robert recalls. "Hopefully, in the next few years, the projects we work on at that biotechnology company, Athersys, may provide meaningful therapeutic change for the world."