April 06, 2018
Students and Faculty Give High Schoolers a Real Lab Experience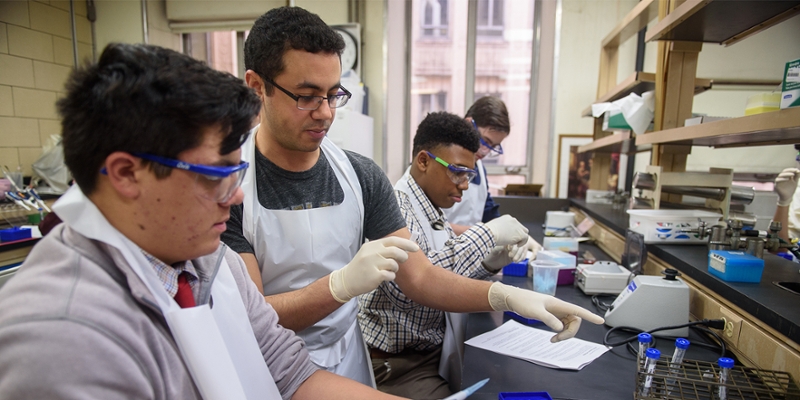 Twice a year, Carnegie Mellon University faculty and students volunteer their time to give high school students from across Western Pennsylvania the opportunity to do hands-on science experiments.
For Carrie Doonan, a teaching professor and director of undergraduate laboratories in the Department of Biological Sciences, organizing this massive outreach event for more than a hundred students every semester is a labor of love and necessity. She has worked in the Mellon College of Science for 24 years and has been involved with outreach efforts in one way or another for 23 of those.
Through these years, Doonan has met many local high school teachers eager to expose their students to the wonders of science but with few resources to do so. She recalls how one teacher at a school in rural Washington County, Pa. had a total budget of $60 to fund equipment and experiments for five Advanced Placement Biology classes. 
"Too often high schools don't have any science equipment so students are taught science straight from a book, and it's a disservice to them," Doonan said. "It's not until they put their hands on it and see science in action that they get stimulated and excited."
That excitement was on display when 120 students converged on the Mellon Institute over two hectic mornings last November. Students learned to use biotechnology to make bacteria glow in the dark by extracting a gene from the DNA of a fish that glows and inserting it into the bacteria. 
"The experiment shows the power of bioengineering," Doonan said. 
Designing experiments complex enough to give students a taste of college-level science but simple enough to be done by novice experimenters in just three and a half hours is a challenge, Doonan said.
"I want to show them something that's very relevant to their world," Doonan explained. "That's the key."
In the program she organized for this spring, students will be working under a scenario that imagines the possibility that a person may have been exposed to the deadly virus smallpox. A vaccine exists for this eradicated disease, but it's in short supply and expensive to make. The students are tasked with testing to see whether a smallpox infection has actually occurred. This testing is done with an enzyme-linked immunosorbent assay, a procedure that looks for antibodies in bodily fluids to see whether the body is responding to an infection.
To make this program a reality, Doonan relies on scores of Carnegie Mellon faculty and students, ranging from Ph.D. candidates to first-year students to volunteer their time leading the labs and working closely with the high school students as teaching assistants.
The outreach program has expanded to tie in with the MCS core curriculum, Doonan said. First-year students can use the experience to help fulfill their community service requirement. Students also get their names listed on the Department of Biological Sciences' website in recognition of their volunteerism.
"It's amazing to see their level of skill and development when they can explain something to students," Doonan said. "By teaching someone, you have to develop a deeper level of understanding." 
Despite the time it requires, including orientation sessions before the lab days, Doonan said she always has more than enough help from the MCS student body, with 50 students total volunteering for last November's sessions.
"It just shows how special everybody is here at CMU."


Visit our departmental Flickr page to view more photos of the November 2017 Outreach Event here.
By Ben Panko | bpanko@cmu.edu