October 20, 2017
Four Ph.D. Students Named Presidential Fellows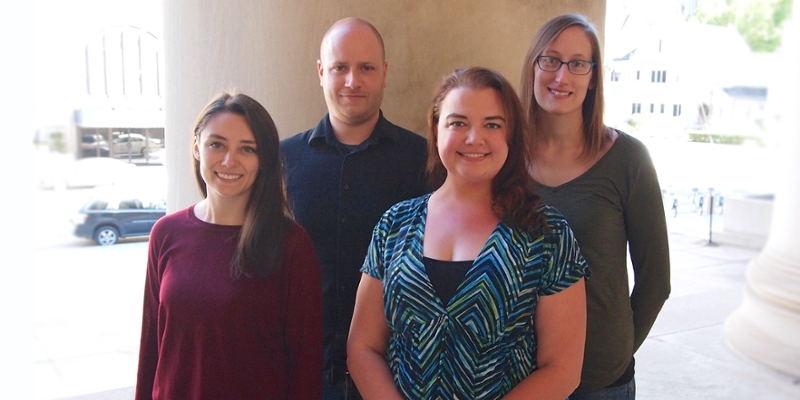 Katherine Lagree, James Winsor, Teresa Spix, and Stephanie Biedka have been named Presidential Fellows in the 2017-2018 class of Presidential Fellowships & Scholarships recipients.
In 2014, CMU leadership launched the Presidential Fellowship & Scholarship program to provide critical financial support to outstanding undergraduate and graduate students across all of Carnegie Mellon's seven colleges and schools. The Presidential Fellowship program is intended to provide important financial support to recruit and retain outstanding graduate students, giving students and their faculty mentors the financial security to develop impactful research.
Katherine Lagree, a fifth-year Ph.D. candidate in the Mitchell lab, was awarded the Mellon College of Science Presidential Fellowship in Biological Sciences. Lagree's current research focuses on the determinants of pathogenicity in the yeast Candida albicans.
"Almost all studies on the pathogenicity of C. albicans have used a single lab adapted strain - SC5314," Lagree said. "I am currently investigating whether a well-defined gene regulatory network that controls iron acquisition and utilization is conserved among five divergent clinical isolates. We are looking to see whether the gene functions are conserved at the level of the transcriptional network and at the level of phenotypic expression."
James Winsor, a fifth-year Ph.D. candidate in the Lee lab, was named the Glen de Vries Presidential Fellowship for Biological Sciences. His research is focused on understanding the mechanism of atlastin based membrane fusion, an activity required for normal cellular endoplasmic reticulum structure. 
"Mutations to atlastin result in an early onset form of the degenerative disease Hereditary Spastic Paraplegia (HSP)," Winsor said. "However, the nature of the defects surrounding these mutations is somewhat unclear and a better understanding of atlastin's mechanism is vital to understanding the underlying causes of this disease."
Teresa Spix, a third-year Ph.D. candidate in the Gittis lab, was awarded the Richard King Mellon Foundation Presidential Fellowship in the Life Sciences. Her research examines the physiological effects of deep brain stimulation (DBS) as a treatment for patients with advanced Parkinson's disease.
"While it is known that DBS is an effective treatment for many patients with advanced Parkinson's disease, its mechanism of action is elusive. While DBS can minimize parkinsonian motor deficits, it is not effective for all patients, has documented negative side effects, and decreases in efficacy over time," said Spix. "By researching the effects of various stimulation protocols on the underlying physiology of the involved neurons, we aim to optimize DBS protocols, improving efficacy, minimizing negative side effects, and prolonging therapeutic benefits."
Stephanie Biedka, a fourth-year Ph.D. candidate in the Woolford lab, was named the Richard King Mellon Foundation Presidential Fellowship in the Life Sciences. Biedka's work is focused on better understanding how remodeling events that take place during 60S ribosomal subunit assembly are connected and how they drive each other.
"My main goal is to determine what assembly events are required for cleavage and processing of the ITS2 spacer sequence in 27SB pre-rRNA," Biedka said. "The Presidential Fellowship will provide resources to continue my investigation of this pre-rRNA processing event, which has long been thought to be an important quality control checkpoint in 60S subunit assembly, and of what happens when 27SB pre-rRNA processing fails to occur."
Thirteen graduate students and four undergraduates in the Mellon College of Science were recipients of Presidential Fellowships and Scholarships this year. A full list of MCS recipients can be found here.
Top image: Presidential Fellows Katherine Lagree, James Winsor, Teresa Spix, and Stephanie Biedka