April 03, 2017
The Power of Three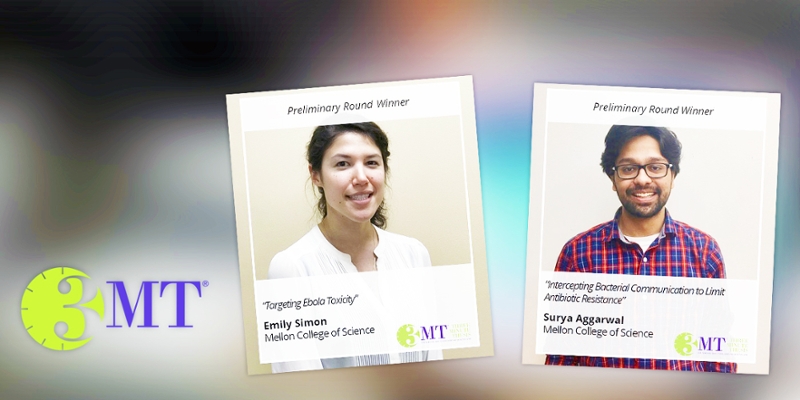 Two Biological Sciences Ph.D. students, Emily Simon and Surya Aggarwal, are among the finalists for the Three Minute Thesis "3MT" competition hosted by Carnegie Mellon University Libraries.
Emily's presentation is entitled "Targeting Ebola Toxicity." She will describe her work in the Linstedt laboratory on the role of GalNAc transferase activity in Ebola glycoprotein-mediated cell detachment. Her work is predicated on the finding that the mucin-like domain of the Ebola virus glycoprotein is required for the loss of both cell-cell and cell-matrix adhesion. It is hypothesized that the mucin-type O-glycosylation on this domain is largely responsible for this detachment, which echoes the symptoms of infected patients, particularly severe hemorrhage. Emily is working to identify which isoforms are most critical for Ebola glycoprotein glycosylation, and are screening for small molecule selective inhibitors of these isoforms. 
Surya's presentation is entitled "Intercepting Bacterial Communication to Limit Antibiotic Resistance." He will describe his work in the Hiller lab on genetic exchange in pneumococcus that drives its acquisition of drug resistance and its success as a biofilm that inhabits human tissue surfaces. He has identified a novel pneumococcal peptide system, acquired by genetic exchange, that is a key regulator of both drug resistance and biofilm formation. Surya is working to dissect the mode of operation of this peptidein order to reveal new knowledge of the role of pneumococcal communication in virulence and antibiotic resistance.  
The 2017 3MT Competition Finals will be held on Tuesday, April 4, from 5:00 – 6:30 p.m. in McConomy Auditorium. Ph.D. students representing a variety of research areas will take to the stage to discuss their thesis in plain language for three minutes for a chance to win technology or travel grants. It will be great for our Biological Sciences faculty and students to show their support for these two "fast talkers" and see them represent us proudly to the campus community.