August 25, 2017
New Academic Year, New Graduate Students!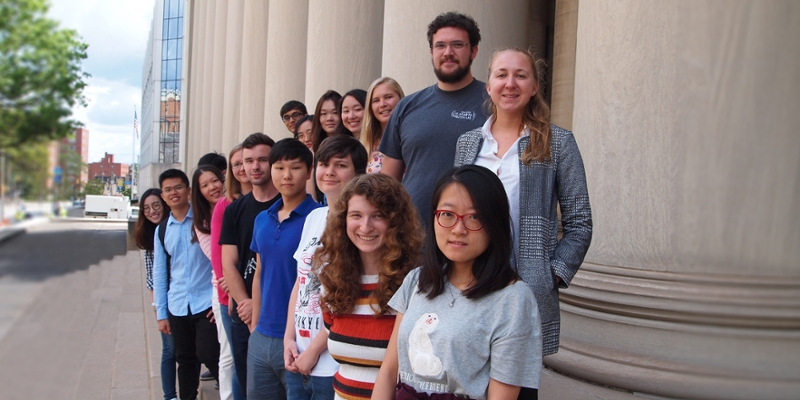 The Department of Biological Sciences welcomes all of its new graduate students for the start of a new academic year. Nine Ph.D. candidates and twenty-four M.S. in Computational Biology (MSCB) students begin their studies in our department.
Over the next few weeks, our nine incoming Ph.D. students will begin the first of three lab rotations, where they learn more about the department's faculty and research. After completing their lab rotations and core courses, the new students will select a research advisor, marking the beginning of their doctoral research at Carnegie Mellon University.
"The Biological Sciences program excites me because it includes some of the most absorbing work I have seen being conducted by a community of incredibly creative, driven, and welcoming students and faculty," said Alexander Hodge, an incoming Ph.D. student from Owosso, Michigan, who previously received his B.S. in Neuroscience from the University of Michigan in Ann Arbor.
Christina Akirtava, another incoming Ph.D. student who studied Bioinformatics and Molecular Biology at Rensselaer Polytechnic Institute, echoed Hodge's statement and spoke about why she chose to pursue her Ph.D. at CMU.
"In choosing a Ph.D. program, the one piece of advice I got from everyone was to pick a school that has the best faculty," Akirtava said. "Going to CMU during the interview weekend, I felt at home. Every professor was genuinely excited to meet the students and very supportive of my goals to mix wet-lab and computational methods in my research."
Additionally, the twenty-four incoming MSCB student are joining the department in the joint program with the Computational Biology Department. They are coming from all over the globe, with previous degrees in biology, bioinformatics, chemistry, agricultural science, mathematics, computer science, and other related fields. 
The new curriculum for the MSCB program has students taking foundation courses in programming, data structures, and applied cell and molecular biology, along with background coursework and breadth and depth courses focused on their chosen area of concentration.
Below is a list of all of our incoming graduate students. Best of luck to all of them and a warm welcome to the Department of Biological Sciences at CMU!
Incoming Ph.D. students
Christina Akirtava
Previous degree: B.S. in Bioinformatics and Molecular Biology with minors in Astrobiology, Electronic Arts, and Psychology from Rensselaer Polytechnic Institute
Max Cravener
Previous degree: B.S. in Biology with a minor in Chemistry from Lock Haven University
Daniel Crosby
Previous degree: B.S. in Biological Sciences with a minor in Statistics from the University of the Sciences in Philadelphia
Fiona Fitzgerald
Previous degree: B.S. in Biochemistry and Molecular Biology with a minor in Microbiology from Penn State University
Alexander Hodge


Previous degree: B.S. in Neuroscience with a minor in German from the University of Michigan

Cam LaJeunesse


Previous degree: B.S. in Biology/Biotechnology from Worcester Polytechnic Institute

Karina Mueller Brown


Previous degree: M.S. in Infection Biology and Cell Biology from Technische Universität Braunschweig and a B.S. in Medical Biotechnology from Universität Rostock

Ian Rosner


Previous degree: B.S. in Biology with a minor in Neuroscience from Wake Forest University

Sarah Werner


Previous degree: B.S. in Microbiology with a Biomedical concentration and minors in Chemistry and Philosophy from the University of Wisconsin-La Crosse


Incoming MSCB students
Xiaoyue Cui
Previous degree: B.S. in Biological Sciences from Tsinghua University

Ziyi Cui
Previous degree: M.S. in Biochemistry from University College London

Xiaoqi Fang
Previous degree: B.S. in Biological Sciences from Fudan University
Saideep Gona
Previous degree: B.S. in Biology and Public Health in Environmental Health Sciences from the University of North Carolina at Chapel Hill
Sarah Hsu
Previous degree: B.S. in Biology from the University of California, Los Angeles
Xinyu Huang
Previous degree: B.E. in Neuro Education from Southeast University
Meaghan Kennedy
Previous degree: B.S. in Biology with a minor in Bioinformatics from Eastern Connecticut State University
Kwanho Kim
Previous degree: B.S. in Agricultural and Biological Engineering from the University of Illinois, Urbana-Champaign
Mo Li
Previous degree: Ph.D. in Chemistry from Carnegie Mellon University and a B.S. in Chemistry from the University of Science and Technology of China
Xinling Li
Previous degree: B.S. in Bioengineering/Bioinformatics with a minor in Economics from the University of California, San Diego
Weicheng Lin
Previous degree: B.S. in Chemistry from Zhejiang University
Jiachen Liu
Previous degree: B.A. in Biochemistry with a minor in Mathematics from the University of Iowa
Fox Liu
Previous degree: B.S. in Bioinformatics from Tongji University
Xiaodi Pan
Previous degree: B.S. from the University of Science and Technology of China
Varaha Karthik Pattisapu
Previous degree: B.Tech. in Chemical Engineering from the Indian Institute of Technology
Chaoying Wang
Previous degree: B.E. from Sun Yat-sen University
Brendan Wee
Previous degree: B.S. in Biology from University of California, Los Angeles
Caryn Willis
Previous degree: B.S. in Mathematics with a minor in Actuarial Science from Indiana Wesleyan University
Yuting Xiao
Previous degree: B.A. in Computer Science with minors in Mathematics and Statistics from the University of Minnesota, Morris
Yiru Xu
Previous degree: B.S. in Biochemistry and Cell Biology from the University of California, San Diego
Yiwen Xu
Previous degree: B.S. in Plant Science and Technology from Huazhong Agricultural University
Zhenyu Yang
Previous degree: B.S. in Animal Science from Zhejiang University

Mengxin Zhang
Previous degree: B.S. in Applied Biology with Biotechnology from the Hong Kong Polytechnic University

Yuheng Zhang
Previous degree: B.S. in Biological Sciences from Tianjin University