January 13, 2017
Carnegie Mellon University Hosts Newest Chapter of National Neuroscience Honor Society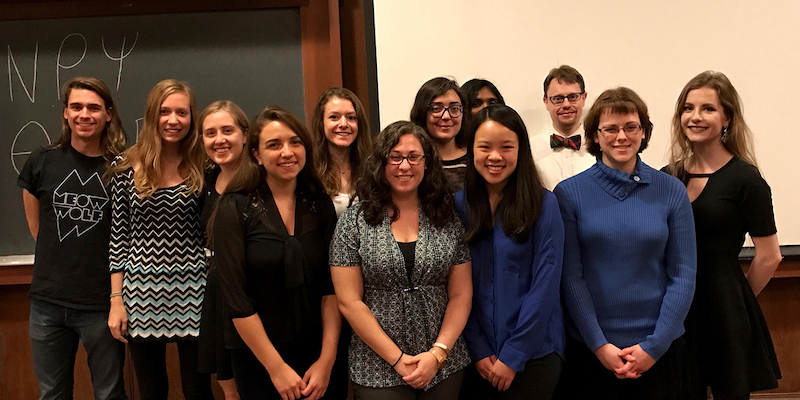 Nu Rho Psi (ΝΡΨ), the National Honor Society in Neuroscience, has just celebrated its tenth anniversary. The society exists for the purpose of helping outstanding neuroscience students develop in their scholarship, their careers, and their communities. Almost exactly on the 10th anniversary of its founding, Carnegie Mellon was approved to shelter the "Theta in Pennsylvania" chapter, which is the newest of the 68 chapters at universities around the United States.
The creation of this chapter allows CMU students and faculty to network and collaborate with nearly 4,000 students and faculty around the country. Additionally, CMU students will be afforded new opportunities to participate in neuroscience education in the Pittsburgh community and beyond. Biological Sciences Assistant Teaching Professor DJ Brasier will serve as faculty advisor for the new organization, which will be led by Chapter President MCS Junior Neuroscience and Psychology major Meredith Schmehl and Chapter Vice President Biological Sciences Ph.D. candidate Amanda Willard.
In February, students will begin the first of many planned outreach events by teaching a Saturday course for middle school students from the Pittsburgh area in collaboration with the Leonard Gelfand Center for Service Learning and Outreach. In this class, middle school students will have the opportunity to learn about the electrical and chemical signals that drive their brain to see, hear, feel and think. Nu Rho Psi members will have hands-on demonstrations allowing students to explore some surprising ways in which their senses get things right and other ways that their senses can be fooled. Students will also get to look inside a dissected sheep's brain along side a plastic human brain model to explore the ways that human brains are similar to and different from other animal's brains in their structure.
In order to be eligible for induction, students need to demonstrate excellence and commitment to neuroscience scholarship and outreach both in and outside the classroom. Carnegie Mellon's Chapter already boasts 16 undergraduate student members and 3 graduate student members from across 5 colleges (MCS, Dietrich, CIT, SCS, and BXA) and is looking forward to continued growth over the coming years.

Pictured above: Members of Nu Rho Ps (front row, from the left) Theo Teichman, Mariel Bedell, Renée Sajedian, Amanda Willard (Nu Rho Psi Vice President), Jessica Lee, Meredith Schmehl (Nu Rho Psi President), Erin Sipple (Nu Rho Psi Treasurer) and (back row) Sophia Wilhelmi (Nu Rho Psi Secretary), Julia Schlossman, Nicole Rafidi, Kavita Ramnat, and Dr. D. J. Brasier (Nu Rho Psi Faculty Advisor).  Additional student members not present include Haili Adams, Isabel Bleimeister, Alyssa Brandt, Lisa Carter, Mark Cheung, Hannah Kolev, Gates Palissery (Nu Rho Psi Service Chair), and Amanda Thiele