May 17, 2017
Senior Biological Sciences Majors Receive Fulbright Awards to Study Abroad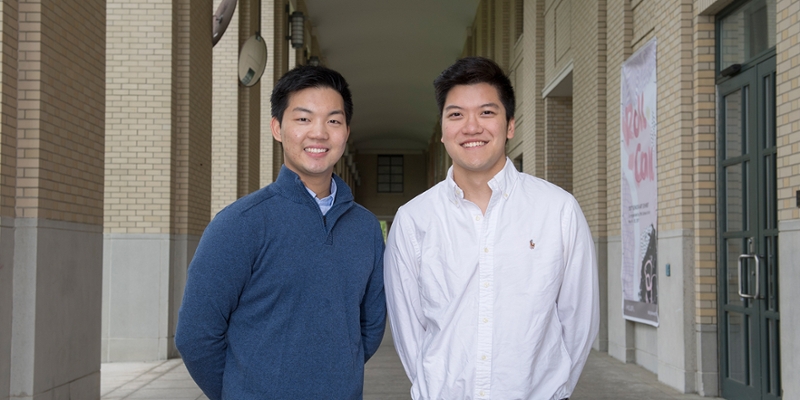 Two senior biological sciences majors have been named recipients of prestigious Fulbright Awards. Timothy Gao and Philip Nantawisarakul join four other Carnegie Mellon students who will use the awards to study abroad. 
Gao, of New York City, is headed to Yilan and Taipei, Taiwan, after being awarded a Fulbright English Teaching Assistantship. Primarily, he will teach English and science in the rural elementary schools of Yilan County. He also plans to work with grassroots non-governmental organizations on mental health awareness, an issue that Gao said "remains stigmatized" in East Asia.
Nantawisarakul, of Ellicott City, Maryland, is the recipient of a Fulbright Study/Research Grant. He will be traveling to Munich, to work at the Max Planck Institute of Psychiatry and study at the Ludwig-Maximilian University of Munich. His research will revolve around attempting to find biomarkers of stress-inflicted mood disorders through clinical fMRI studies.
"This year's Fulbright awardees personify the ideals of the Carnegie Mellon undergraduate experience," said Joanna Dickert, assistant director of undergraduate research in CMU's Fellowships and Scholarships Office. "They are committed scholars and citizens who have crafted distinctive paths for intellectual exploration that embraced experiential learning via undergraduate research, study abroad and service learning. We have every confidence that they will continue to learn, create, discover and inspire in their respective host countries as ambassadors for Carnegie Mellon and the United States."
The Fellowships and Scholars Office provides support to students who are interested in applying for nationally competitive fellowships and scholarships.
The U.S. Department of State's Bureau of Educational and Cultural Affairs sponsors the Fulbright U.S. Student Program to "increase mutual understanding between the people of the United States and the people of other countries."
Read about the Carnegie Mellon students from other colleges who received Fulbright Awards here. 
###
By: Julianne Mattera
Media Contact: Jocelyn Duffy, 412-268-9982, jhduffy@andrew.cmu.edu