Wednesday, April 6, 2016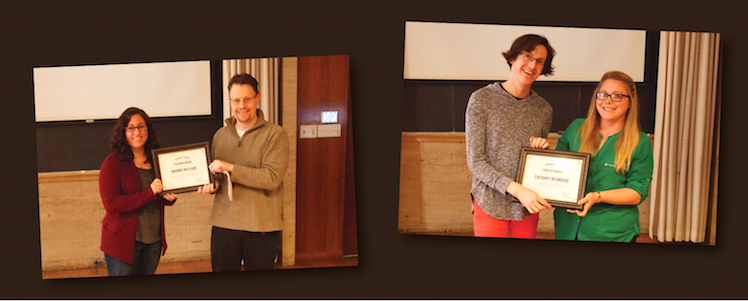 2016 Graduate Student Service and Teaching Awards
Amanda Willard and Zachary Weinberg were the recipients of this year's Department of Biological Sciences Graduate Student Teaching and Service Awards, respectively. The honors, now in their twelfth year, were awarded today on Wednesday, April 6th to coincide with the yearly Graduate and Professional Student Appreciation week at Carnegie Mellon.
Amanda Willard, recipient of the teaching award, is a fourth year Ph.D. graduate student in the Gittis lab. She was nominated by DJ Brasier for her exceptional performance as a teaching assistant.
"Amanda is a gifted and dedicated teacher," said Brasier. "As a TA, she worked incredibly hard to help students prepare for all the examinations. She gave an outstanding lecture on the single most difficult topic of the semester; and her active, engaging lecture on that topic resulted in measurable improvements in student learning compared to last year."
Speaking on Amanda's job as a TA, one student said, "Amanda is unlike any other teaching assistant I had in my undergraduate classes. Her enthusiasm in teaching enriched my learning experience in the classes because I knew she was approachable and eager to answer my questions regarding the course materials and beyond."
Zachary Weinberg, recipient of the service award, is a third year Ph.D. graduate student in the Puthenveedu lab. The service award is intended for someone who has demonstrated above and beyond service to the department during their tenure here at the university.
Zach was nominated for the service award by Shanna Bowman, who acknowledged his efforts in the yearly recruiting visits for prospective students for the last two years, and his role as president of The Sciences Teaching Club and his active involvement in numerous outreach programs.
"In addition to his committee service and outreach work, Zach goes above and beyond to help his fellow graduate students and undergraduate students with lab protocols and beyond," Bowman said. "Almost everyday I see other students asking Zach questions about protocols or data analysis, and he always makes himself available to help."
The annual awards are aimed at highlighting exceptional student work and involvement within the department.
Congratulations to Amanda and Zach for their amazing efforts within the department and the CMU community!