Monday, May 23, 2016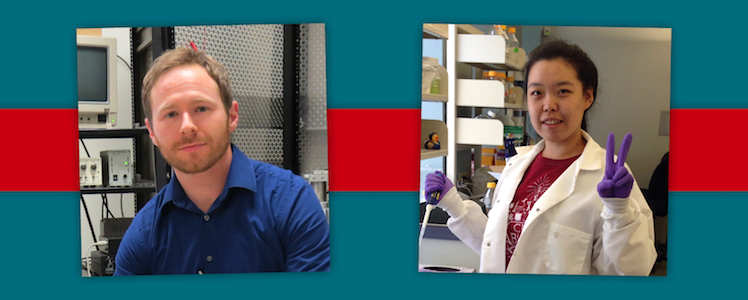 Shawn Burton and Minyan Zheng Receive Stupakoff Scientific Achievement Award
Shawn Burton and Minyan Zheng have been chosen as the recipients of the 2016 Stupakoff Scientific Achievement Award, an honor presented to CMU Biological Sciences Ph.D. students annually. The awardees are selected based upon their record of research accomplishment and the projected research impact of their use of the $5,000 award funds. 
Shawn Burton, a fifth-year Ph.D. candidate in the Urban lab, has focused his research on identifying and understanding the roles of the numerous neuron types in the brain and their roles in neural processing. The identification of cell type-selective markers has yielded unique insight into how these interneurons shape neural processing. This work will enhance the understanding of brain function to improve targeted medicine and mental health.
Burton has identified a novel interneuron type that can regulate key aspects of olfactory bulb (OB) activity. Through the Stupakoff Award funds, a state-of-the-art intersectional genetic strategy will be used to selectively label and manipulate these interneurons, which could enable multiple directions of future research — including cell type-selective recording and manipulation of each novel interneuron type.
Minyan Zheng, a third-year Ph.D. candidate in the Hinman lab, is using starfish larvae to study regeneration, specifically, to learn how developmental gene regulatory networks (dGRNs) may be co-opted for use during regeneration. 
One important question in the study of how animals regenerate is if or how the dGRN is reutilized in regeneration. Zheng hopes to reveal a detailed GRN that explains how neurogenesis is controlled during development and regeneration, which is critical for determining how to engineer and control the fate of neural stem cells. Zheng will use the Stupakoff Award funds to support construction of BAC recombinants, large DNA insert clones that contain the entire regulatory DNA and the gene of interest, which will allow Zheng to compare reporter driven expression during a developmental and regenerative time course. 
The Stupakoff Scientific Achievement Award is made possible through the contributions of the late Semon Stupakoff (E'20), who studied metallurgy at Carnegie Tech and received the alumni achievement award from Carnegie Mellon in 1979. 
The Department of Biological Sciences thanks the colleagues who took time to review Stupakoff applications, including Manoj Puthenveedu, Sandra Kuhlman, Dannie Durand, and Massimo Trucco.