Monday, February 1, 2016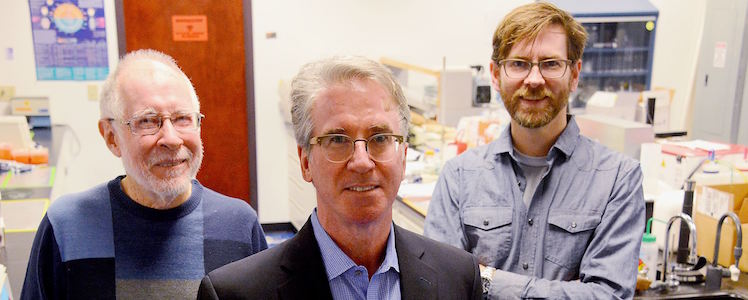 Sharp Edge Labs Featured in Pittsburgh Post-Gazette
Faculty Members Alan Waggoner and Marcel Bruchez Reinvent Their Startup Company
Carnegie Mellon University embraces entrepreneurship and innovation in its faculty, staff, and students – providing an atmosphere for individuals to foster their ventures. There have been over 300 companies emerging from CMU within the last 15 years, with many from members of the Biological Sciences Department.
In a cover story in the Business section of the today's Post-Gazette, Alan Waggoner, professor of biological sciences, and Marcel Bruchez, associate professor of biological sciences and director of the Molecular Biosensor and Imaging Center, discuss the changes that are turning their five-year old brainchild, Sharp Edge Labs Inc., into a drug discovery company that is a first of its kind in Pittsburgh.
Originally started as a business that would sell chemical dyes to Big Pharma, its shift in focus now has Sharp Edge Labs using its chemical dyes to sort through hundreds of thousands of drug compounds to find ones that can fix the genetic cause of a particular disease. The use high-speed robotics increase the speed of screening the drug compounds by 1,000 to one over convetional developmental methods.
To read more about the process and the history of Sharp Edge Labs, including a video interview with Waggoner and Bruchez, click here for the full PPG article.

Picture above (from left): Alan Waggoner, Sharp Edge CEO Scott Sneddon, and Marcel Bruchez. Photo courtesy of Lake Fong/Post-Gazette.