Friday, September 16, 2016

Ph.D. Students Awarded Presidential Fellowships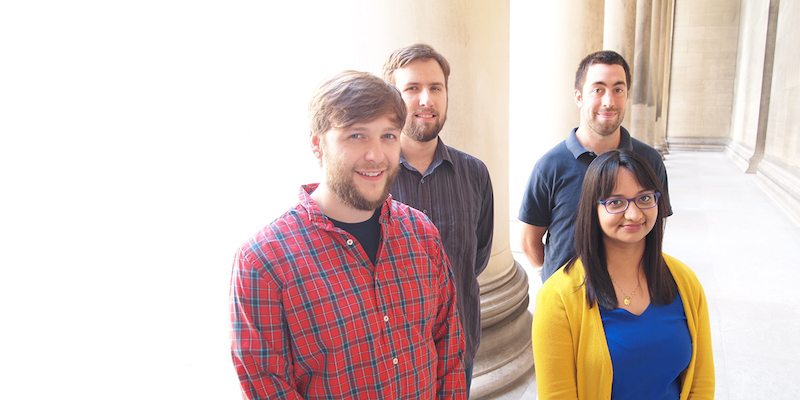 Dan Ackerman, Nick Audette, Malachi Blundon, and Anagha Kadam have been named Presidential Fellows in the 2016-2017 class of Presidential Fellowships & Scholarships recipients.
Launched by CMU President Subra Suresh in 2014, the Presidential Fellowship program is intended to provide important financial support to recruit and retain outstanding graduate students, giving students and their faculty mentors the financial security to develop impactful research.
Dan Ackerman, a third-year Ph.D. candidate in the Jarvik lab, was awarded the Richard King Mellon Foundation Presidential Fellowship in the Life Sciences. Ackerman is working in the Jarvik lab to develop a fluorescent biosensor for inflammation, hoping to aid in anti-inflammatory development and autoimmune disease treatment.
"We will use dissolvable microneedle arrays to deliver an adeno-associated virus to endogenous keratinocytes, which will then act as real-time fluorescent reporters for changes in inflammation in vivo," said Ackerman. "Producing novel assays is always tricky and time-consuming, and the Presidential Fellowships will afford me valuable resources for this difficult process."
Nick Audette, a fifth-year Ph.D. candidate in the Barth lab, was named the Henry L. Hillman Presidential Fellow. His research in the Barth lab addresses how long-range inputs from the thalamus drive sensory responses in the cortex, employing a combination of transgenic mouse lines, optogentic techniques, and whole-cell patch clamp recording.
"The goal is to understand how precisely defined local neuronal circuit motifs are activated by sensory input, what types of computations could be performed by these motifs, and how these circuits change in response to salient sensory experiences," Audette said.
Malachi Blundon, a fifth-year Ph.D. candidate in the labs for Brooke McCartney and Jon Minden, was awarded the Richard King Mellon Foundation Presidential Fellowship in the Life Sciences. Blundon's research focuses on building complex cellular signaling pathways using a proteomic technique called Two-Dimensional Difference Gell Electrophoresis (2D-DIGE).
"We have currently identified a new regulator of Beta-catenin (β-cat) activity in the fly embryo and support from the Presidential Fellowship will provide the resourcesnecessary to uncover the molecular mechanism this new regulator is using to control β-cat function," Blundon said. "This particular regulation of β-cat
may be important for the initiation and progression of colon cancer in humans."
Anagha Kadam, a fifth-year Ph.D. candidate in the Hiller lab, was named the Glen de Vries Presidential Fellows for Biological Sciences. In the Hiller lab, Kadam is working to decode the molecular toolbox responsible for turning the bacterium Streptococcus pneumoniae from an asymptomatic, friendly inhabitant of the human respiratory tract to a serious pathogen causing respiratory complications, sepsis and meningitis.
"The Presidential Fellowship is an honor and it will allow me to continue my pursuit of unraveling new knowledge about this leading pediatric pathogen," said Kadam. "It will aid in my work on deciphering cryptic communication codes used by bacterial cells use to network with their neighbors and toggle the switch between pathogenic and asymptomatic lifestyles. These may serve be attractive targets for novel anti-bacterial therapies."
The 2016-2017 class of Presidential Fellows and Scholars consists of 138 undergraduate scholars and 117 graduate fellows across all of CMU's seven colleges and schools.
Top image: Presidential Fellows Malachi Blundon, Dan Ackerman, Nick Audette, and Anagha Kadam