Friday, March 27, 2015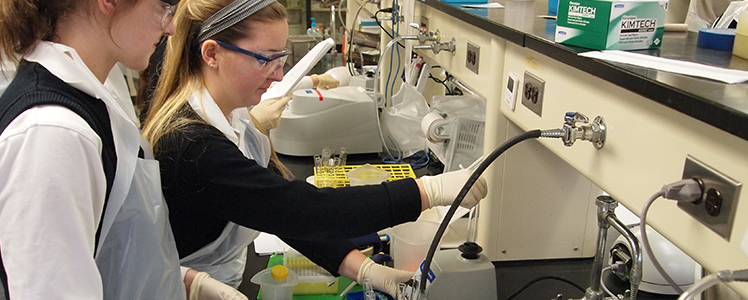 High School Students Quantitate Protein in Outreach Program
On March 18th and 24th, 2015, the Department of Biological Sciences Outreach Program hosted 60 high school students to design a project to determine the quantity of protein in a variety of food items. Students came from Bishop Canavin, Ellwood City, Serra Catholic, and Oakland Catholic High Schools and were given an introduction into the central dogma of molecular biology, protein structure, and current methods to detect protein. The students were then broken into small groups and asked to design a project and formulate a hypothesis about the protein content in food items that were available for their testing. Students were actively engaged in their projects – and some even designed their project based off of foods they commonly eat.
After having formulated a hypothesis, the students used the Bradford Assay to determine the concentration of protein in their samples. The Bradford Assay is a biochemical technique that utilized a specific dye that changes color upon interaction with protein molecules. This color change can be quantitatively measured with the use of a spectrophotometer. Students generated a standard curve with known concentrations of proteins and then used this to determine the concentration of their samples. The day ended with each group giving a presentation explaining their hypothesis, results, and insights into their projects.
Dr. Carrie Doonan and Nathan Wilson coordinated and developed the experiment. Lead Instructors included Dr. Emily Drill, Dr. Swarna Mohan, and Nathan Wilson. Graduate student Zach Weinberg introduced the students to the topics and also served as a teaching assistant. Other Graduate teaching assistant included: Amanda Soohoo, Vinitha Ganesan, Lynley Doonan, Berquin Feese, Shanna Bowman, Andy Kehr, and Berryhill McCarty. Undergraduate teaching assistants: Raghu Avula, Rachel Willen, Yemi Bankole, Nikita Mishra, Kaitlin Hamilton, Jamie Zhan, Katie Krasikova, Serena Zhou, Danielle Peters, Amanda Broderick, Nicole Matamala, and Bridget Hunt-Tobey were instrumental to the success of the day. Participating High School teachers were Cara DeSalvo, Serra Catholic, Vanessa Bentley, Bishop Canevin, Jonical Walters, Ellwood City and Cassandra Sirockman, Oakland Catholic.
Additional images from the quantitating protein outreach event.