Wednesday, September 9, 2015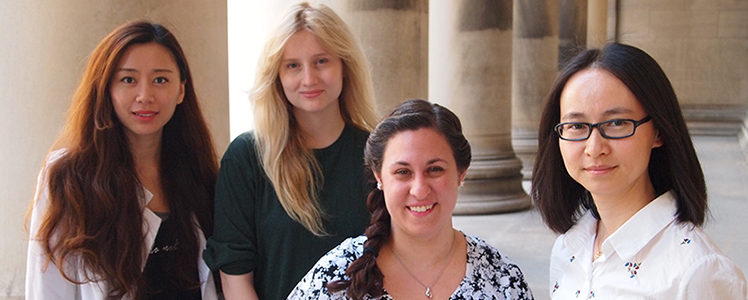 CMU's Inaugural Class of Presidential Fellows Announced
Four Biological Sciences PhD students Awarded Fellowship
Four Biological Sciences graduate students – Lina Song, Amanda Willard, Lydia Perkins, and Ting Liu – have been named Presidential Fellows in the inaugural class of Presidential Fellowships and Scholarships recipients.
The Presidential Fellowship program, launched by CMU President Subra Suresh in 2014, is intended to provide important financial support to recruit and retain outstanding graduate students, giving students and their faculty mentors the financial security to develop impactful research.
"An endowment of more than $150 million has been established through a variety of mechanisms to support this and future classes of Presidential Fellows and Scholars across all seven of CMU's colleges and schools," said Suresh in an email announcement to the campus community.
Amanda Willard, a fourth-year Ph.D. candidate in the Gittis lab, was awarded the Richard King Mellon Foundation Presidential Fellowship in the Life Sciences. In the Gittis lab, Willard is looking at how an area of the brain called the basal ganglia, which is important for motor control, adapts during periods of dysfunction.
"I am using a slow dopamine depletion paradigm that I developed to investigate plasticity in the basal ganglia that occurs under conditions of low dopamine, as might arise in patients with Parkinson's disease," Willard said. "The goal is to understand the progression of changes within the basal ganglia that ultimately result in motor dysfunction."
Lina Song, a fourth-year Ph.D. candidate in the lab of Adam Linstedt, was named the Glen de Vries Presidential Fellow for Biological Sciences. Song has been working in the Linstedt Lab on the identification of the first inhibitors of O-glycosylation.
Many viruses depend on O-glycosylation by the host cells they infect for their replication and to evade recognition by the host immune system. Thus, O-glycosylation inhibitors might aid patients infected with viruses ranging from the common cold to the deadly Ebola virus.
"Our hope is that the inhibitors will also be useful as therapeutic agents," said Song. "O-glycosylation inhibitors are expected to be anti-metastatic because the invasive behavior of many cancers depends on upregulated O-glycosylation."
Lydia Perkins, a third-year Ph.D. candidate in the Bruchez lab, was awarded the Richard King Mellon Foundation Presidential Fellowship in the Life Sciences. Her research in the lab uses fluorogen activating protein technology to discover new gene targets for synergistic cystic fibrosis therapies.
"Our goal is to enhance ΔF508-CFTR trafficking to the cell surface beyond that achievable with corrector alone," Perkins said in talking about her research.
"To identify gene targets that promote trafficking, a siRNA kinase library was screened, and the library screen has presented an exciting list of candidates," said Perkins. "This fellowship will help assist with the validation of these targets."
Ting Liu, a sixth-year Ph.D. candidate in the Evilevitch lab, was named the Bruce McWilliams Presidential Fellow in the Mellon College of Science. Liu's work in the Evilevitch lab focuses on understanding how physical properties of viral genomes control the infection process associated with genome release and subsequent packaging back into the virus.
"My major current project is to investigate how cellular osmotic pressure regulates the release of DNA from a human Herpesvirus (HVS-1)," Liu said.
"Studies of human virus replication inside cells are in particularly challenging," Liu continues, "and the Presidential Fellowship gives me a precious opportunity to complete this difficult research with the funding, and therefore the time, required for these experiments."
The inaugural class of Presidential Fellows and Scholars consists of 90 undergraduate scholars and 55 graduate fellows across all of CMU's seven colleges and schools. A list of recipients and more information about the program is available online.
Top image: Presidential Fellows Ting Liu, Lydia Perkins, Amanda Willard, and Lina Song