Friday, May 8, 2015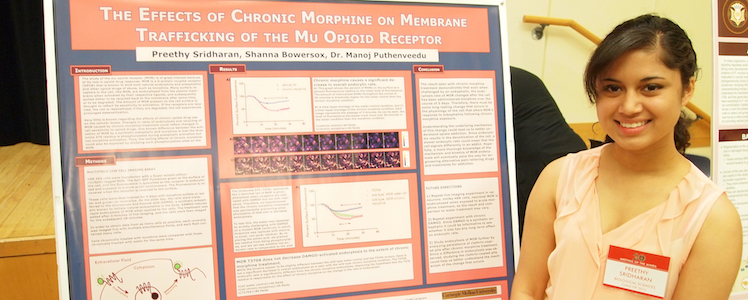 Biological Sciences Students at 20th Annual Meeting of the Minds
The Meetings of the Minds, a campus-wide celebration of undergraduate research, held its 20th annual event on Wednesday, May 6, 2015. Sponsored by the Office of Undergraduate Research, the all-day event features poster and oral presentations, along with displays of visual art and performances.
Numerous undergraduate students majoring in biological sciences participated in the Sigma Xi poster competition, which is open to any student presenting a poster in quantitative sciences. Preethy Sridharan, advised by Manoj Puthenveedu, tied for first place in the competition with her poster, "The Effects of Chronic Morphine on the Rate of Mu-opioid Receptor (MOR) Trafficking." 
The following students also presented in the Sigma Xi competition:
Katherine Huang (Advisors: Veronica Hinman and Gregory Cary)
"The Effects of Inhibiting Wnt Signaling on Gene Expression in Regenerating Patiria Miniata"
Jennifer Huang, Taechawidd Nantawisarakul, and Emilio Rodriguez (Advisor: Brooke McCartney)
"The Gut-Microbiome-Brain Connection"
Mark Nicholas (Advisor: Sandra Kuhlman)
"Corticocortical Feedback-mediated Facilitation is Cell-type Specific and Gated by Nucleus Basalis Activity"
Kaitlin Hamilton (Advisors: Alex Evilevith and Krista Freeman, Physics)
"Development of a Cleaning Assay for Removal of Viral Contamination from Atomic Force Microscopy Probes: A Game Changer for Imaging Resolution"
Tammy Ying (Advisor: Fred Lanni)
"Invasion of Candida albicans into Polyacrylamide Hydrogel"
Jacqueline Lee (Advisor: Alan Rosenbloom, ICES)
"Micro-fluidic System with Partitioned Samples"
Alexandra Celentano, Dominique MacCalla, Nicole Matamala, Danielle Peters, Courtney Pozzi, Niteesh Sundaram, and Lena Wang (Advisors: Cheryl Telmer, Niana Marculescu, Electrical and Computer Engineering, Natasa Miskov-Zivanov, Electrical and Computer Engineering)
"STREAM: Sensor that Reports Endocrine Activating Molecules"
Gordon Pherribo (Advisor: James Collins, MIT)
"The Role of Antibiotics in Modulating Macrophage Immune Cell Function"
Shoba Subramanian, Vice President of the CMU Chapter of Sigma Xi and Assistant Department Head for Graduate Affairs, organized the poster competition. Judges for the competition included many members of our department: Maggie Braun (faculty), Gregory Cary (postdoc in the Hinman lab), Emily Drill (faculty), Kaustubh Sinha (postdoc in the Rule lab), Cheryl Telmer (research biologist in the Bruchez lab), Parul Nisha (Ph.D. '07 MCS), and Rumi Naik (BS '02 MCS, Ph.D. '13 SCS).
In addition to the Sigma Xi competitors, the following students in biological sciences also had posters on display throughout the day during the Meeting of the Minds:
Nicholas O'Hallaron (Advisor: Kelvin Gregory, Civil and Environmental Engineering)
"A Light-based Approach for the Prevention of Biofouling and Biocorrosion"
Jenine Nembhard (Advisor: Stephanie Wallach, History)
"Analysis of Mother-to-child HIV Infection Rates in the United State and South Africa"
Miranda Munoz (Advisor: Amy Wagner, Pitt)
"Assessing Dopamine Transmission Kinetics in Striatal Regions using Fast-scan Cyclic Votammetry"
Barclay Kaku (Advisor: Jon Minden)
"Discovering Biomarkers for Rheumatoid Arthritis-associated Interstitial Lung Disease using a Novel Protein Capture Method"
Jamie Zhan (Advisor: David Hackney)
"Kinesin Binding Under Physiological pH and Salt Conditions"
Shaun Ranade
"New Insights into Laminin as a Structural Cue for Myoblasts using Micropatterned Surfaces"
Arsema Thomas (Advisor: Michael West, Modern Languages)
"The Comparative Analysis of the Circumstances of Internationally Displaced Refugees in Kenya and Internally Displaced Peoples in Haiti, and the Net Effect of Non-governmental Organizations on Both Scenarios"
Additional photos from the event can be viewed here.