Friday, April 24, 2015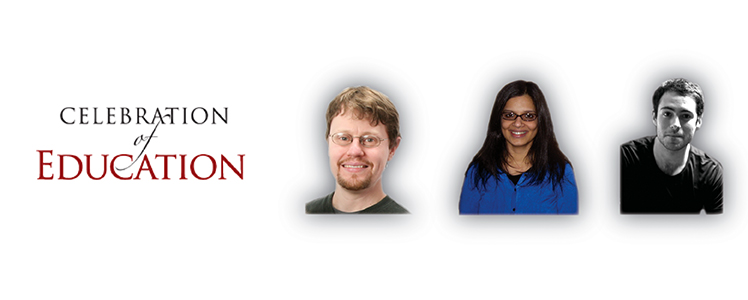 Faculty and Graduate Students Honored at Annual CMU Celebration of Education
Last night, Carnegie Mellon University held their annual Celebration of Education awards ceremony. The event is to recognize members of the CMU community who exemplify the university's standards of excellence in education. Among those honorees are our very own Dr. Shoba Subramanian (Wimmer Faculty Fellow), Dr. DJ Brasier (Wimmer Faculty Fellow), and graduate student Ardon Shorr (Graduate Student Service Award).
Subramanian and Brasier are 2014-2015 Wimmer Faculty Fellows, made possible by a grant from the Wimmer Family Foundation. The fellowships are designed for junior faculty members interested in enhancing their teaching through concentrated work designing or re-designing a course, innovating new materials, or exploring a new pedagogical approach. Fellows work in close collaboration with Eberly Center colleagues and receive a stipend to acknowledge the work it takes to improve one's effectiveness as an educator.
Shorr, a Ph.D. candidate in the LeDuc lab, received CMU Graduate Student Award for his contribution in establishing the Public Communication for Researchers (PCR) organization. The award encourages and recognizes service to graduate students and Carnegie Mellon University.
Congratulations to all!