Wednesday, February 26, 2014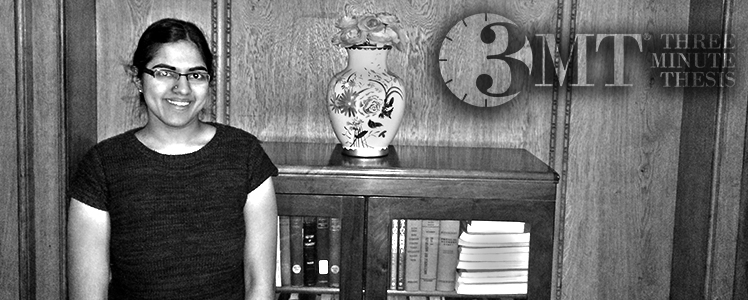 Suchitra Ramachandran Places 2nd at This Year's Three Minute Thesis
Suchitra Ramachandran, a Ph.D. candidate in Carl Olson's laboratory, placed 2nd across all disciplines in Carnegie Mellon's 2014 Three Minute Thesis Competition. Suchitra also tied for the People's Choice Award during the event, which is scored by votes from the audience. Her presentation of her thesis, "Visual Statistical Learning in Monkey Inferotemporal Cortex", qualified as one of 11 finalists out of 145 Ph.D. students who participated in the competition.

Three Minute Thesis is a research communication competition developed by The University of Queensland.  It challenges PhD students to present a compelling oration on their thesis and its significance in just three minutes, in language appropriate to a non-specialist audience. 3MT is not an exercise in trivializing or 'dumbing-down' research but forces students to consolidate their ideas and crystallize their research discoveries.

Speaking on the difference in preparation for this event compared to other presentations, Suchitra said, "The audience at Three Minute Thesis is very different from the specialists who are usually the target audience at conferences or lab meetings. The audience comprised of faculty and students from various departments at CMU."

Two additional students from the department, Ardon Shorr and Madhu Ramesh, reached the finals of the competition, and Shanna Bowersox was runner-up in one of the preliminary heats.

Congratulations to Suchitra and to all the Biological Sciences students who participated in the contest.