Monday, April 28, 2014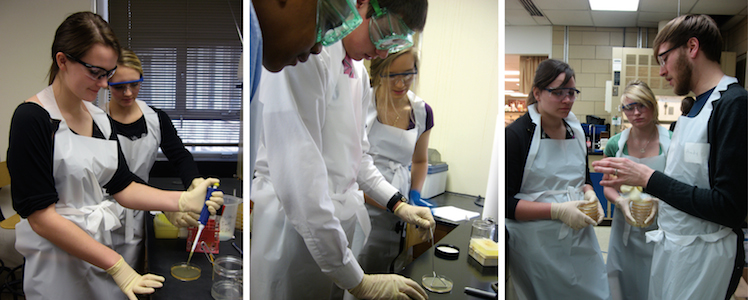 Outreach Events Examining Secondhand Smoke and Disease Outbreaks
The Department of Biological Sciences hosted 63 students from Bishop Canevin, Serra Catholic, Ringgold, and McKeesport high schools on March 18, 19, 25 and 26th. This outreach program stressed the importance of knowing the dangers of secondhand smoke exposure, as well as gave the students the opportunity to develop their own experimental design and ownership of data in the life sciences. The students were accompanied by their teachers: Sara Brown (Ringgold), Cara DeSalvo (Serra Catholic), Joan Smith (McKeesport), and Vanessa Bentley (Bishop Canevin).

In recent decades, the dangers of smoking and secondhand smoke have come to light. It is common knowledge that smoking and secondhand smoke have detrimental health effects on most living organisms. Students learned the uses of model organisms in biology, specifically the uses of Baker's yeast S. cerevisiae. Based off of what they had learned about both secondhand smoke and model organisms, students were tasked with designing an experiment that would demonstrate the dangers of secondhand smoke.

On the first day, students were given a culture of wild type S. cerevisiae and were given a primer of basic microbiology and the culturing of yeast. Students then designed exposure chambers and variable they wanted to test. Groups had their choice of many variables to test, examples include: exposure time, distance, cigar/cigarette brand, etc. Once the choice of cigar/cigarette brand was chosen, yeast were spread on agar plates and inserted into the student built smoking chambers. With the aid of the teaching assistant, students exposed their yeast according to their experimental design.

Once the yeast had some time to grow the students returned a second day, analyzed the data, created killing curves, and prepared a short seminar-style talk. After their presentations, students also had the chance to go to the microscopy lab, and compare and analyze the differences in lung tissues of a smoker vs. a nonsmoker.

Additionally, 25 students from Oakland and Central Catholic high schools visited in April to see how disease outbreaks can be detected and tracked using an ELISA. Teachers Mark Krotec (Central Catholic) and Melissa Franks (Oakland Catholic) were also in company.

An Enzyme Linked Immunosorbent Assay (ELISA) is a common biochemical technique that is used to detect substances with a high degree of sensitivity. It is commonly used in the field of epidemiology to trace the path of disease outbreaks. At the core of the method, an ELISA relies on the specificity of antibodies. When the immune system encounters a foreign substance, antibodies are produced specifically for that substance. The subsequently produced antibody then binds to the foreign substance (called an antigen). The antigen-antibody specificity is how an ELISA can determine the presence of an antigen with such specificity.

In this module, students simulated a disease outbreak by sharing tubes of simulated bodily fluids. After several rounds of sharing, each student performed an ELISA on their sample to determine whether or not they had been exposed. At the end of the experiment, students amassed all their data and went to work back-tracking the spread of the "disease". 
Secondhand Smoke Event: The outreach was possible due to the undergraduate, graduate, and alumni research mentors. Graduate student and alumni volunteers were: Andrew Kehr, Olivia Molinar, Ian Bayles, Joseph Doonan, Stacey Kuzetsov, Ming Zhang, and Vishnu Chandra.  Undergraduate mentors were: Alexis Oguh, Eric Pederson, Dustin Brout, Kaitlin Hamilton, Jacob Krause, Tara Sheikh, Emma Hartman, Corrina Tender, Patricia Thang, Victor Bass, Elizabeth Berryhill McCarty, Alexander Post, Yemi Bankole, Memphis Hill, Dallas Hartman, Serena Zhou, Marlena Darr, and Brian Mattes.

Dr. Carrie Doonan coordinated and ran the event. Dr. Swarna Mohan and Nathan Wilson were instructors for the event. Graduate student Andrew Kehr was a lead instructor.

Disease Outbreak Event: Dr. Carrie Doonan coordinated the event. Dr. Swarna Mohan served as lead instructor while Nathan Wilson, Joseph Doonan, and graduate student Christopher Pratt were teaching assistants for the event.
Additional images from the secondhand smoke outreach event can be viewed here.