Thursday, September 12, 2013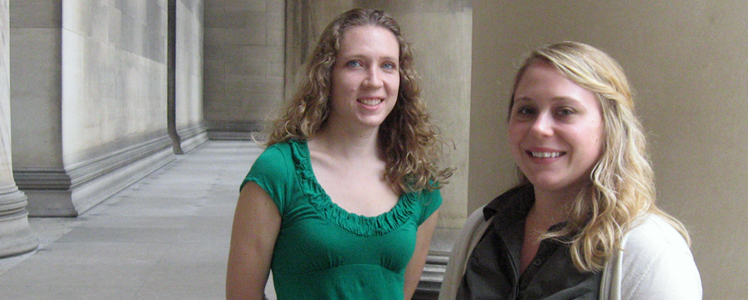 2013 Graduate Student Service and Teaching Awards
Shanna Bowersox and Alys Cheatle were awarded the 2013 Department of Biological Sciences Graduate Student Service and Teaching Awards at the Elizabeth Jones Departmental Retreat held at Hidden Valley Resort on August 24 and 25, 2013.
Bowersox, a fourth-year Ph.D. candidate in Manojkumar Puthenveedu's laboratory, received the Graduate Student Service Award. She has been an outstanding student citizen, since arriving on campus in 2010. Bowersox served as class representative, treasurer for the Sciences Teaching Club, and student coordinator for the Elizabeth Jones Departmental Retreat. Additionally, graduate programs manager, Ena Miceli, explains, "her role on the graduate student recruiting committee has been significant with prospective students. She interacts with the recruits by demonstrating the daily life of graduate students in labs, answers their questions one-on-one, and builds relationships with them to guide them through the admissions process."
Cheatle, a sixth-year Ph.D. student working within Dr. Veronica Hinman's laboratory, was the recipient of the Graduate Student Teaching Award for her work as a Teaching Assistant for the courses, Evolution and Evolution of Regulatory Genomics. When describing Cheatle's teaching contributions, Hinman stated, " She has helped me prepare course materials, graded homework and exams, provided excellent feedback to students, been extremely conscientious about making time for students, and on three separate occasions has given in class lectures."
Even after fulfilling her teaching quota, Cheatle volunteered to teach Evolution and the History of Life, because she genuinely likes to be involved in teaching.
Congratulations!