Monday, August 19, 2013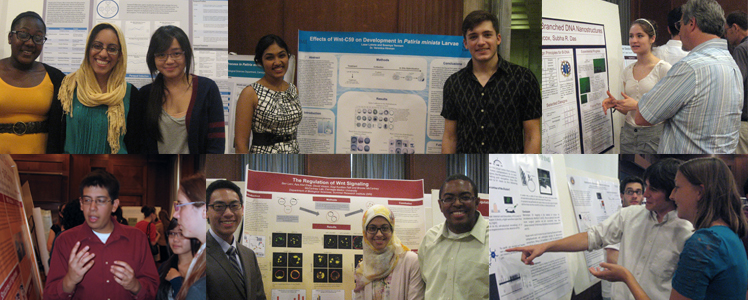 2013 Summer Research Programs Conclude
Fifty students from Carnegie Mellon University's Pittsburgh and Qatar campuses participated in the Howard Hughes Medical Institute (HHMI) Summer Research Programs and conducted research with faculty mentors in cell biology, developmental biology, biochemistry, neuroscience and computational biology. Additionally, two teachers from local high schools and one biology major with an additional secondary educational certification from an outside institution completed molecular biology and biochemistry research, and discussed ways to bring an excitement for research to their classroom. On August 2, the HHMI Summer Research Programs hosted by the Department of Biological Sciences concluded with a poster session and research symposium.
Twenty-two students presented 12 talks about their research at the symposium.
Leon Kim, HHMI Researcher
Evolution of Sedoheptulose-1,7-bisphophatase (SHB17)
Advisor: Dr. Dannie Durand
Memphis Hill, HHMI Researcher
The Role of p53 in Cellular Transformation by the Large T-antigen of Simian Virus 40 and JCV Polyomaviruses
Advisor: Dr. James Pipas
Amritha Parthasarathy & Danielle Schlesinger, HHMI Researchers
Analysis of APC2 Mutants using 2D Differential Gel Electrophoresis
Advisor: Dr. Jon Minden
Dagney Cooke & Raghunandan Avula, HHMI Researchers
Improving Detection of Rheumatoid Arthritis Proteins in 2D Gels using Biotin
Advisor: Dr. Jon Minden
Catherine Stephenson, HHMI Scholar
Characterization of TrpM8 Axons in the Mouse Spinal Cord
Advisor: Dr. Alison Barth
Isaac Shamie, HHMI Scholar
The Characterization of a Clinically relevant μ Opioid Receptor Variant
Advisor: Dr. Manoj Puthenveedu
Rachel Sewell, HHMI Scholar
19F MRI Assessment of Systemic Inflammation Following TBI and Combined TBI and Hemorrhagic Shock in Mice
Advisor: Dr. Eric Ahrens
Sarah Horner, HHMI Scholar
The Role of ZFU2 on Biofilm Formation in Candida albicans
Advisor: Dr. Aaron Mitchell
Rudina Morina, Daniel Ringwalt & Michele Woolford, SRI-CMU
Building Biosensors: Linker-Length Dependent Fluorescence in an scFv-based Platform
Advisor: Dr. Marcel Bruchez
Aya Gaballa, Donna Lee & Janay Parrish, SRI-CMU-Q & SRI-CMU
The Genetics of Aging: Alternative Splicing in Drosophila Melanogaster
Advisor: Dr. Javier Lopez
Aya Abd Elaal, Ben Lam & David Vinson, SRI-CMU-Q & SRI-CMU
The Regulation of Wnt Signaling
Advisor: Dr. Brooke McCartney
Mohammed El-Allam, Elizabeth Starck & Stephanie Vereb, SRI-CMU-Q & SRI-CMU
Testing of Cell Heterogeneity in Candida albicans with a Red Fluorescent Protein Reporter Gene Construct
Advisor: Dr. Aaron Mitchell
At the poster session, all HHMI-supported students showcased their research on topics as diverse as heat-induced ejection of bacteriophage lambda, GMO detection in the high school classroom, and the genetics of aging: alternative splicing in Drosophila melanogaster.
"The breadth and depth of research done by the participants of the HHMI Summer Research Program was truly impressive and inspiring. It's wonderful that we can provide these students with the opportunity to do science, as well as work side-by-side with professional scientist, enabling them to better identify with the scientific community and help them in their future careers," stated Dr. Jon Minden, Director of the HHMI programs at Carnegie Mellon.
For more information on the HHMI Summer Research Programs, visit www.cmu.edu/bio/hhmi.