Wednesday, May 15, 2013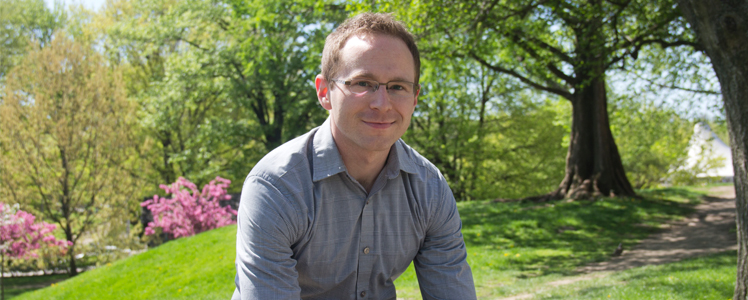 Ph.D. Candidate Shawn Burton Receives NRSA Fellowship
Shawn Burton, a second-year Ph.D. candidate in Biological Sciences, recently received a Ruth L. Kirschstein National Research Service Award (NRSA), a prestigious fellowship administered by the National Institutes of Health.
 
With this fellowship, Burton will train in highly sophisticated electrophysiology and imaging techniques, including simultaneous recordings from multiple neurons and multiple sites on the same neuron, as well as visualization of spatiotemporal activity patterns of large populations of neurons using calcium-ion sensitive dyes. He will use these techniques to research fundamental properties of lateral inhibition in the olfactory bulb, the first region of the brain involved in processing the sense of smell. Results of this work will contribute both specifically to better understanding olfaction, and more broadly to better understanding neural computations performed in the brain. 
 
Burton particularly attributes his receipt of this fellowship to working in Dr. Nathan Urban's laboratory, collaborating with Dr. Bard Ermentrout from the University of Pittsburgh, and publishing their work in the Journal of Neurophysiology and the Journal of Computational Neuroscience.
 
"Shawn has been remarkably productive for a student so early in his Ph.D. training. He is full of creative ideas for new experiments, and he works very hard and very quickly. Shawn excels in doing difficult experiments, performing complex analyses, and also in reading the literature to better understand the questions on which he is working. He has quickly become a critical member of my lab and he has all the makings of an outstanding scientist. As such, he is highly deserving of an NRSA fellowship," states Urban.   
 
Burton also credits the Department of Biological Sciences doctoral program for providing "a unique opportunity that combines the advantages of being in a smaller, classical biology department housed within a single building, with full access to the huge breadth and range of courses, seminars, and research interests brought together by the [Center for the Neural Basis of Cognition] CNBC." The CNBC, a joint program between Carnegie Mellon University and the University of Pittsburgh, brings together more than 200 faculty and students researching different aspects of the brain.
 
The NRSA fellowship aims to financially support promising doctoral candidates completing dissertation research and training in scientific health-related fields. His proposal will be funded specifically through the National Institute of Deafness and Other Communication Disorders and will provide a stipend, tuition, and travel funds for three years. Since 2004, five students and one postdoctoral fellow in the Urban lab have been awarded NRSA fellowships.   
 
Congratulations, Shawn!