Tuesday, May 14, 2013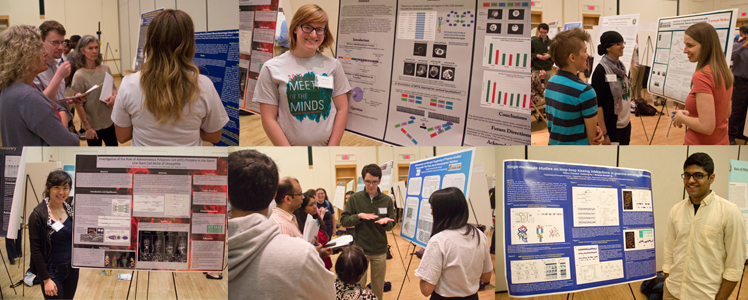 Biological Sciences Participates in the Meeting of the Minds
The annual celebration of undergraduate research, the Meeting of the Minds, was held on Wednesday, May 8, 2013. The Office of Undergraduate Research sponsors this event.
During the event, many biological sciences undergraduates participated in the Sigma Xi (an international honorary research society) poster competition, which was open to any student presenting a quantitative science-based poster. The top two prizes from the competition were awarded to biological sciences undergraduates. Paige Davison received first prize for her poster entitled "Dissecting the Actin Localization Methods of APC2;" her advisor was Dr. Brooke McCartney. Second prize A was awarded to Vishnu Chandra for his work with Dr. Maumita Mandal from the Chemistry Department. His poster was entitled "Single-molecule studies on Loop-Loop Kissing Interactions in Guanine-sensing Riboswitch."
In addition to the undergraduates, the Department of Biological Sciences supported this event in numerous capacities. Dr. Shoba Subramanian served as coordinator for the Sigma Xi Competition. Faculty members, D.J. Brasier, Maggie Braun, Emily Drill, Veronica Hinman, Joel McManus, Cheryl Telmer, postdoctoral fellows Jill Debowski, and Wenjie Xu, and alumnus Parul Nisha were among the Sigma Xi judges.
Associate Professor A. Javier Lopez also served as a judge for the Richard Schoenwald Phi Beta Kappa Undergraduate Research Prize.
All Biological Sciences Undergraduate Participants
Riddhima Agarwal
Chick Embryo Extract and Epigenetic Regulation of Osteosarcoma Stem Cells
Advisor: Kurt Weiss
Robert Albertstein
Characterization and Development of Human Tear Lipocalin as a Fluorogen Activating Protein
Advisor: Gordon Rule
Titas Banerjee
Phylogenomic Analysis of Tumorigenesis Using Breast Cancer Cells
Advisor: Russell Schwartz
Vishnu Chandra
Single-molecule studies on Loop-Loop Kissing Interactions in Guanine-sensing Riboswitch 
Advisor: Maumita Mandal
Paige Davison
Dissecting the Actin Localization Methods of APC2
Advisor: Brooke McCartney
Katherine Forsyth
Analysis of Transcription Factors in the presence of IL-23 Using A Human TH-17 Cell Line
Advisor: Mandy McGeachy
Emily Henderson
The Formation of Esters and Other Byproducts during Beer Fermentation: The Effect of Yeast Strain and Pitching Rate
Advisor: M. Stephanie Murray
Pu Fang Hung
Investigation of the Role of APC Proteins in the Germ Line Stem Cell Niche of Drosophila
Advisor: Brooke McCartney
Michael Julian
Illustrating Biological Processes Through Animation
Advisor: M. Stephanie Murray
Diane Koeller
Truncation, Cloning, and Expression of Debranching Enzyme
Advisor: Maggie Braun
Lazar Lalone
The Investigation of the Role of Hedgehog in Neural Patterning of Patiria Miniata Larvae
Advisor: Veronica Hinman
Purumeh Nam
Effect of Actin Destabilizing Drugs on Recycling of Beta 2 Adrenergic Receptors
Advisor: Manojkumar Puthenveedu
Amritha Parthasarathy
Analyzing the Differences Between APC1 and APC2 Mutants in Drosophila Using 2D DIGE
Advisor: Jonathan Minden
Jesse Payton
The Effects of Type 1 Interferon Treatment on Dendritic Cell-mediated Autophagy
Advisor: Michael Lotze
Michael Platov
Localization of Alternatively Spliced Stunted Protein Isoforms and Their Role in Aging of Drosophila Melanogaster
Advisor: A. Javier Lopez
John Ra
Examining Agency and Communion Themes in Older Couples' Personal Goals
Advisors: Brooke Feeney and Vicki Helgeson
Prerana Reddy
Curing Symptoms of Duchenne Muscular Dystrophy Through Stem Cell Research
Advisor: Gharabeih Burhan
Rachel Sewell
19F MRI Assessment of Systemic Inflammation Following TBI and Combined TBI and Hemorrhagic Shock in Mice
Advisor: Eric Ahrens
Isaac Shamie
Characterizing the Trafficking of Mu-opioid Receptor upon Ligand Activation
Advisor: Manojkumar Puthenveedu
Kelly Shibuya
Analysis of Phosphorylation of APC2 in the Drosophila Syncytial Embryo
Advisor: Brooke McCartney
Katherine Siewert
Phylogenetic Reconstruction of Domain Shuffling in the Maguk Protein Family
Advisor: Dannie Durand
Abigail Simmons
Role of PRA1 in Adherence and Biofilm Formation in Candida Albicans
Advisor: Aaron Mitchell
Shephaly Soni
Beautiful Organs: Selling Health
Advisor: M. Stephanie Murray
Kathryn Supko
Pan-erbB Inhibition Potentiates BRAF Inhibitors for Melanoma Treatment
Advisor: Jill Siegfried
Mary Tsang
Plants of the Future
Advisors: Joe Mannino, Ali Momeni, and M. Stephanie Murray
Sowmya Yennam
The Investigation of the Role of Hedgehog in Neural Patterning of Patiria Miniata Larvae
Advisor: Veronica Hinman
Tammy Ying
Invasion of Candida Albicans Hyphae into Elastomer
Advisor: Frederick Lanni
William Yoo
Shiga Toxin – GPP130 Binding and GPP130 Manganese Treatment Recovery
Advisor: Adam Linstedt
Nicolas Zuniga-Penarand
Priming Gestures with Related Sounds
Advisor: Laurie Heller