Thursday, January 3, 2013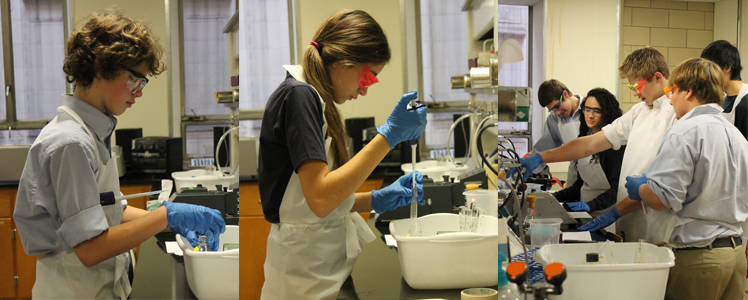 Exploring Gene Regulation at Outreach Event
Fifty students from Serra Catholic, Ringgold, Bishop Canevin, and Ellwood City High Schools, along with their teachers Cara DeSalvo (Serra Catholic), Sarah Brown (Ringgold), Peggy Evans (Bishop Canevin), and Jonica Walters (Ellwood City) explored gene regulation at a recent Department of Biological Sciences outreach event.
Using the knowledge that bacteria cells, such as E. coli, use glucose as a carbon source and that the enzyme, β-galactosidase, aids in the conversion of disaccharide lactose to glucose and galactose monomers, the students monitored two bacterial cultures and removed samples at regular intervals to assay for β-galactosidase. Then, students predicted and observed the effect of different sugars on the intercellular levels of β-galactosidase using orthophenolnitrate as a substrate. When present, β-galactosidase will cleave the bond in orthophenolnitrate resulting in two products, galactose and nitro-phenol. Students used a spectrophotometer to measure the amount of nitro-phenol via absorbance. Therefore, the students demonstrated that certain small sugar molecules regulate the expression of E. coli's lactose genes.
Biology undergraduate and graduate students served as teaching assistants and guided participants through the experiment. The graduate students were Andy Kehr, Ming Zhang, Idil Ulegin, and Yi Wang. The undergraduates included Joe Defazio, Darren Morris, Erica Moore, Tam Minh Le, Katie Supko, Rachel Sewell, Nick Zuniga, Alex Rodriguez, Marianne Pan, Lindsey Fong, Kelly Shibuya, Amy Li, David Vinson, and Patricia Thang.
Additionally, Drs. Carrie Doonan and Emily Drill coordinated everything on the day of the event, while Sara Blankenship completed the earlier organization. Other departmental personnel and volunteers included Dr. Maggie Braun and Barry Harris.