Monday, May 20, 2013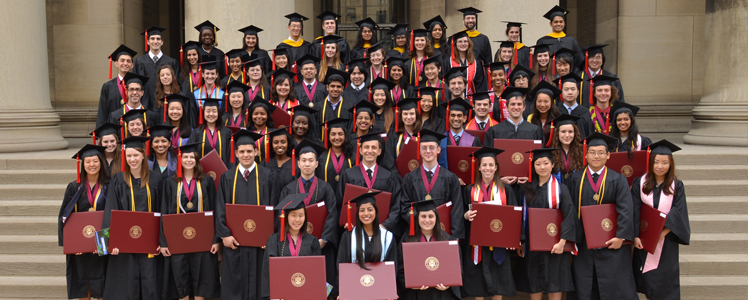 Congratulations, graduates!
Eight doctoral, 11 masters and 67 bachelors graduates were led into the Department of Biological Sciences diploma ceremony on May 18 by a bagpiper. Department Head Nathan Urban, Assistant Head for Undergraduate Affairs Maggie Braun and Professor Charles Ettensohn presided over the festive ceremony.
The diversity of the degrees awarded to the 67 graduating seniors included:
35 B.S. in Biological Sciences,
13 B.S. in Biological Sciences and Psychology,
10 B.S. in Biological Sciences/Neuroscience Track,
three B.S. in Computational Biology,
three B.S.A. in Biological Sciences and Art,
two B.A. in Biological Sciences,
and one B.S.A. in Biological Sciences and Musical Performance.
There were also six Science and Humanities Scholars. The interdisciplinary nature of Carnegie Mellon University was highlighted in the additional majors and minors of the students. Biomedical Engineering, Business Administration, Chemistry, Computer Science, Decision Sciences, Environmental Science, Gender Studies, Health Care Policy and Management, Hispanic Studies, History, and Visual Arts were just a few of the additional majors and minors.
"Outstanding Academic Achievement," "Outstanding Undergraduate Research," and "Student Advisory Council Service Awards" honors were bestowed upon 41 undergraduate students. Laura Filliger, Xuexia Jiang and Kelly Shibuya were recognized for honors in research biology.
Futhermore, Xuexia Jiang received the Elizabeth W. Jones Award for Excellence in Undergraduate Research.>
Future plans for the students are just as varied as their doctoral, masters, and bachelors' degrees. Many of the students are pursuing graduate degrees at institutions such as the University of Pittsburgh, University of Chicago, University of Pennsylvania, University of Michigan, Boston University, Cornell University, and Stanford University within fields such as evolutionary biology, developmental biology, regenerative and stem cell biology, immunology, public health, speech language pathology, bioinformatics, biochemistry, and computational biology. Students are also entering medical and dental schools at places such as the University of Pittsburgh School of Medicine, Harvard School of Dental Medicine, University of Pennsylvania, Vanderbilt School of Medicine, and Yale School of Medicine. Lastly, some students are entering the workforce at the National Institutes of Health, IBM, Boeing, Microstrategy, Smithsonian Science Education Institute, Teach for America, Columbia University, and J. Craig Venter Institute.
Congratulations to all of the graduates!
View photos from the Diploma Ceremony on Flickr.