Tuesday, August 21, 2012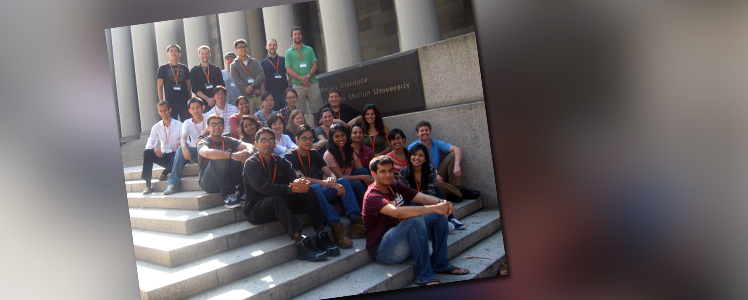 Welcome, New Students
With orientation week underway, the Department of Biological Sciences welcomes all of its new graduate and undergraduate students.
This year, 13 Ph.D. students, Patrick Abbott, Nicholas Audette, Malachi Blundon, Berquin Feese, Vinitha Ganesan, Anagha Kadam, Yizhu Lin, Brendan Redler, Lina Song, Ceren Tuzmen, Swati Venkat, Amanda Willard, and Caitlin Winkler begin their studies. Over the next few weeks, these students will begin the first of three lab rotations, where they learn more about the department's faculty and research. After completing their lab rotations and core courses, the new students will select a research advisor, marking the beginning of their doctoral research at Carnegie Mellon University.
In addition, 16 M.S. in Computational Biology students, Stuti Agrawal, Sonia Chothani, Benny Jacob, Vineet Joshi, Michael Krill-Burger, Luigi Leung, Frank Lin, Lalitha Narayanam, Bhushan Ramnani, Nikita Roy, Yuxian Ruan, Alan Shteyman, Preeti Singh, Prateek Tandon, Yajing Tang, and Yiming Xin are joining the department.
For more information on the departmental graduate student orientation, visit: www.cmu.edu/bio/seminars_events/orientation/
Furthermore, 53 sophomores declared a primary major in biological sciences or the unified major of biology and psychology. For more information on the first-year orientation, visit: www.studentaffairs.cmu.edu/first-year/orientation/.