Wednesday, March 28, 2012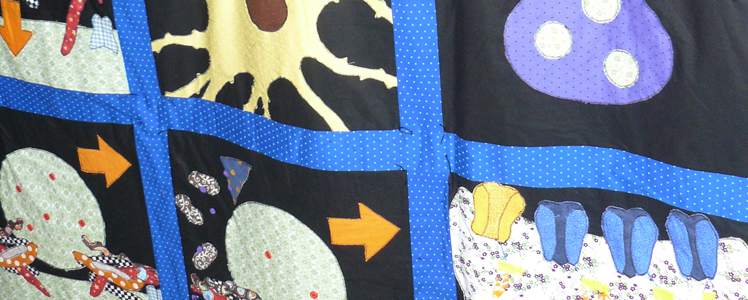 Synaptic Art
Science and art are often thought to be at opposite end of a spectrum; however, Dr. Alison Barth recently brought them together in an assignment for her Cellular and Molecular Neuroscience course.
The students, the majority of whom were juniors and seniors from the Department of Biological Sciences, were tasked with artistically or dramatically representing glutamatergic synapses, the major excitatory synapse of the nervous system. The synapse representations manifested in a variety of forms, including animations, music video, sculptures, children's books, computer games, paintings and even a quilt. Synapses were depicted in various states, including ones where synaptic strength was increasing, a process thought to underlie learning and memory.
"In order properly visualize the synapse, I really had to fully understand the science behind the process. This assignment was an interesting way to learn about synapses," said one student.
"Scientists interpret data to construct models – and creating a compelling visual image of a biological process is something I need to do all the time professionally," said Barth. "I wanted to give the students the opportunity to materialize their understanding of synaptic function dramatically or visually."
Barth was delighted with the results. "The range of creativity was phenomenal," she said. "I could really see their understanding of synaptic function come through." The presentation sessions were engaging and interactive, as groups of students assigned to peer review each others' projects listened to presentations and examined the detail and accuracy of the projects.
"You have to articulate a lot of assumptions to make a model," Barth said. "At the same time, there are some concrete things that should be displayed. This was a different way for students to display their understanding of a critical neurobiological process in a non-exam format."
Cellular and Molecular Neuroscience is a 9-unit course offered during the spring semester. It provides a comprehensive survey of cellular and molecular neuroscience ranging from molecules to simple neural circuits. Topics covered include the properties of biological membranes, the electrical properties of neurons, neural communication and synaptic transmission, mechanisms of brain plasticity and the analysis of simple neural circuits.
Music video created by Andrew McCoy and Tom Miller.
Animation created by Allison Huey.
Kinex block animation created by Alissa Ting.
Header photo: Quilt created by Kasey Lamothe.