Thursday, October 11, 2012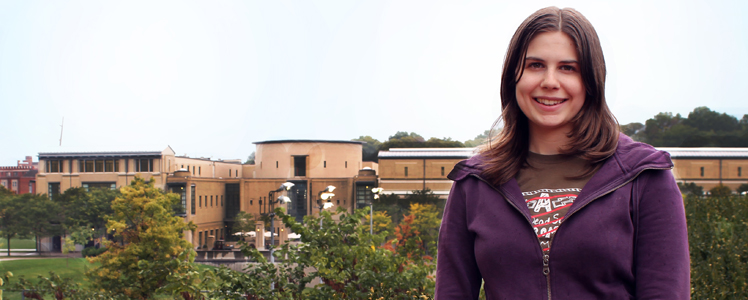 Simmons Receives American Society for Microbiology Fellowship
Carnegie Mellon University senior Abigail Simmons was recently awarded an undergraduate research fellowship from the American Society for Microbiology (ASM). Simmons was one of 56 students selected nationwide for the fellowships, which provide students the opportunity to conduct research with an ASM mentor and present their results at the 113th ASM General Meeting in Denver. 

Simmons works with Carnegie Mellon Biological Sciences Professor Aaron Mitchell on research projects dealing with Candida albicans, a type of yeast naturally found in the gastrointestinal and genitourinary tracts that can occasionally grow out of control and cause infection. These yeast often grow as biofilms, aggregates of cells that adhere to surfaces like tissues and medical implants. The ability of C. albicans to form a biofilm has a profound impact on its ability to cause disease.

For her summer research project, Simmons studied a cell surface molecule called SOD5 that the Mitchell lab identified as a possible regulator of C. albicans biofilm formation and growth. She created a mutant form of the yeast that lacked SOD5 and tested its ability to adhere to a surface. Simmons is continuing her work in Mitchell's lab but has turned her attention to a different cell surface molecule called pra1, which she suspects has anti-adhesion properties.

Simmons was first introduced to biological research during her first year at Carnegie Mellon in the Phage Genomics Research course. While at Carnegie Mellon, she has been an active member of the Biological Sciences Student Advisory Committee and Scotch'n'Soda Theatre. A native of Burlington, Mass., Simmons plans to pursue an advanced degree after graduation.