Tuesday, August 7, 2012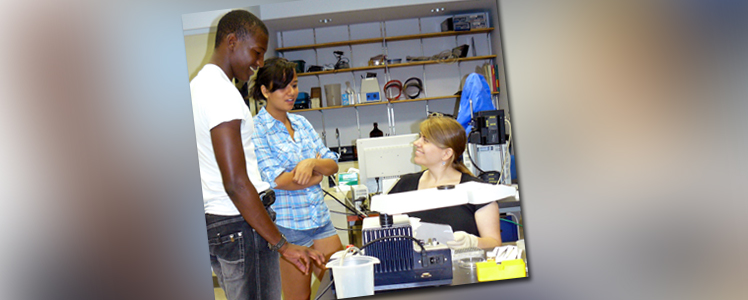 Biological Sciences Hosts Scavenger Hunt Outreach Event
The Department of Biological Sciences hosted a science scavenger hunt outreach event for high school students in Carnegie Mellon University's Summer Academy for Math and Science (SAMS) and the AP Biology Summer Institute on July 20. 
The scavenger hunt stations introduced the high school students to research through five-to-ten minute talks or demonstrations summarizing the research projects of HHMI-Summer Research Institute (SRI), CMU-Qatar or Summer Undergraduate Research Program (SURP) students. The talks or demonstrations topics included creating glow in the dark bacteria, computationally modeling neurons, training mice to play video games, and examining the structure of ribosomes. At the end of each station, the high school students had to answer questions before moving on. After visiting all of the stations, the students turned in a completed form for a cool treat.
This outreach would not have been possible without the help of numerous undergraduate students, including Hiba Al-Ashtal, Ridin Balakrishnan, Hailey Brown, Dagney Cooke, Elise Croteau-Chonka, Mei Elgindi, Hadya Elshakh, Susan Hannes, Naomi Gunawardena, Chelsea Hoffman, Kacey Idouchi, Sean Kane, Raji Katibe, Annette Ko, Ben Kuo, Lazar LaLone, Jessika Louissaint, Andrew McCoy, Mridula Nadamuni, Gordon Pherribo, Abigail Simmons, Daniel Sori, Nick Teslovich, and Sowmya Yennam.
Department of Biological Sciences members, Dr. Carrie Doonan and Sara Blankenship, coordinated the event, while Drs. Emily Drill and Annette Vincent presented their research to students. Also, Ms. Ronni Rossman, the AP Biology Summer Institute teacher, participated.